Products & Services
Construction Equipment
ph: (910) 572-1272
fax: (910) 572-1252
Forestry
ph: (910) 572-1272
fax: (910) 572-1252
Services
ph: (910) 572-1272
fax: (910) 572-1252
Caterpillar in Troy, NC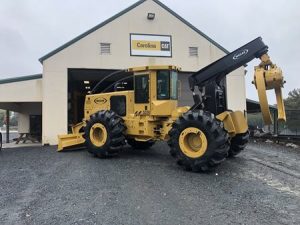 For your company and its equipment needs, you trust the Cat® name. As a part of the Cat dealer network, Carolina Cat delivers world-class machines designed with performance, safety, sustainability and productivity at our various locations, including in Troy, NC. Whether your business focuses on construction or forestry or requires rental machinery, our knowledgeable team is here to help.
Directions to Carolina Cat in Troy
Carolina Cat's Troy, NC, location is off North Main Street on Railroad Avenue by Guilford Street. It's only a two-minute walk from the Troy Police Department and post office.
Forestry Equipment

Meet the challenges of the forestry industry with performance-based equipment that's ready to pummel trees, dirt and anything else you put in front of it. Our inventory of forestry equipment
in Troy, NC, includes wheel skidders, wheel feller bunchers, knuckleboom loaders, and more. If you're unsure of the forestry machinery you need for your next project, count on our experienced team to help you find a cost-effective choice.
Do More with Carolina Cat in Troy
At Carolina Cat, we help our customers do more. We're driven by more than 90 years of experience and history, as well as our commitment to our community, to deliver reliable, performance-grade equipment that's ready to revitalize your work site's productivity, efficiency and safety. That's why we're a certified Cat dealer and proud to carry machines with the innovation of Caterpillar behind them.
Ready to do more with your forestry needs? Carolina Cat is proud to be a Weiler Forestry dealer, carrying forestry equipment to meet all your operational needs. Weiler has built product sold and serviced by Caterpillar for the last 15 years, and uses their private ownership to bring you the best customer service possible by providing reliable quality products that are the most productive in the industry.
Discover what the Carolina Cat Troy team can do for your business by contacting us today, or calling us at (800) 277-1212. Feel free to contact your local sales representative, too.