BE THE FIRST TO OWN AN
ALL-NEW CAT® UTV!
Gas-Powered CUV82 starting at $14,990
Diesel-Powered CUV102D starting at $16,290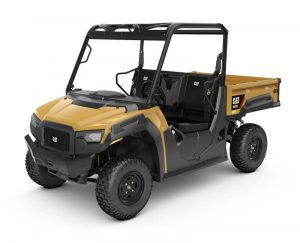 UTV Sales Available for You
Currently, we offer two Cat UTV models for you to invest in. The CUV82 is a gas-powered utility vehicle that can reach up to 45 mph, can hold up to 1,000 pounds in rear cargo and can tow up to 2,000 pounds. Running on a .8-liter three-cylinder Chery engine, this UTV is designed to meet all safety standards outlined by ANSI/ROHVA I-2014. With this model, you even have the ability to set a lock around 25 mph, ensuring a safe work area due to weather, ground conditions or worker skills.
Our second Cat UTV available is the CUV102D. It is also a two-seater vehicle that runs off a diesel engine, with the same rear load and towing capacities as the CUV82. With a speed that only reaches up to 25 mph, this UTV is ideal for improving productivity and versatility on a range of worksites, from agriculture to construction to landscaping.
HOW CAN YOUR UTV SALE BENEFIT YOU?
Cat UTVs are made to be durable, maneuverable and reliable pieces to add to your existing line of Cat products. They can efficiently and powerfully haul and tow your products around sites and in between locations. Easy to maintain and understand, you won't feel overcomplicated and confused by the operation of your UTV. 
We even provide extended legroom and extra headspace, accommodating for body shapes in a range of sizes. This makes your UTV the perfect accessory for a multiworker job, as anyone can easily take over the machine to operate. Plus, you won't have to worry about distracting your neighbors for home or smaller sites — Cat UTVs run on quiet operation, producing less noise to make it easier to communicate with your team.
SOME OTHER PERKS OF UTV SALES INCLUDE:

Top of the Line Service
Filters, drive belts and on-board diagnostics can lower any maintenance costs and give your UTV a longer life.

Maximum Productivity
With steel cargo beds and smooth, varying transmissions, you can move more materials and safely tow heavier loads.

Superior Stability
All models have a four-wheel independent suspension to stabilize your ride.

Performance on All Terrains
You can choose your level of clearance on-ground with two-wheel drive, four-wheel drive and four-wheel drive/lock modes.

Customized Capabilities
Weathertight enclosures, a front winch and power dump, combined with 50 other accessory options, make your UTV customized specifically for your needs.

Trusted and Reliable Support
Caterpillar's UTV sales are unmatched with our level of customer service and dedicated knowledge.