Products & Services
Construction Equipment
ph: 
(828) 251-2500
free: (800) 277-2070
fax: (828) 253-4713
Rental Stores
ph: 
(828) 285-9097
free: (800) 277-2070
fax: (828) 253-4713
Power Generation
ph: 
(828) 251-2500
free: (800) 277-2070
fax: (828) 253-4713
Emergency Vehicle Services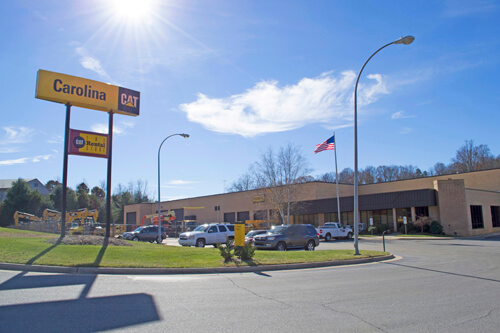 CONTACT US ONLINE     CALL US AT (800) 277-1212
Whether you drive independently or for a large corporation, it's important to know where you can turn if your rig ever needs immediate repair. For those in western North Carolina, Carolina Cat serves clients with a variety of maintenance services under one roof.
Our professionals make it easy to keep your Cat Engine in outstanding condition. All of our friendly technicians are highly trained to take on repair jobs for Cat® trucks and other industry-leading brands. Visit our 39 Interstate Blvd. location for everything you need to match your on-highway demands.
We Carry Commercial Truck Parts for Fast Repairs
Carolina Cat contains a growing inventory of parts to service commercial trucks near Asheville, NC, and surrounding areas. We thrive on efficiency and quick turnarounds, with wheels, tires, exhaust components and more within an arm's reach. Get your vocational truck on the road as fast as possible thanks to a local team with over 95 years in the business.
Our Heavy-Duty Truck Repair Services in Asheville, NC
Our Asheville location is equipped with a full-size repair shop for heavy-duty trucks. Get the help you need with technicians available 24/7/365 to repair your fleet at any time of day or night. We offer appointment-based scheduling as well as emergency repair services for maximum uptime.
Depend on the team at Carolina Cat to handle general upkeep and repairs of any size. We ensure you stay safe and comfortable behind the wheel by performing engine rebuilds, alignments, battery replacements and repairs to the following:
AC systems
Exhaust systems
Radiators
Contact Carolina Cat for Engine Repairs Near Asheville, NC
Carolina Cat is your go-to source for Cat Engine parts, repair services, maintenance work and more thanks to our convenient location in Asheville. We are a world-class Cat dealer empowering business owners to make the best decisions for their fleet. Contact us online, call 828-251-2500 or stop by our Asheville location to learn more about your options for commercial truck services today.