Products & Services
Construction 
ph: 
(828) 464-7045
free: (800) 868-0110
fax: (828) 466-1280
Rental Stores
ph: 
(828) 466-3102
free: (800) 868-0110
fax: (828) 466-1280
Carolina Cat in Hickory, NC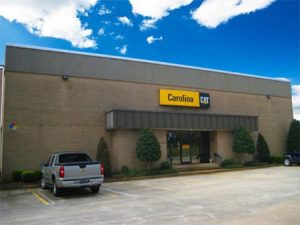 Whether you need to add a piece of equipment to your fleet or you have a temporary construction project that calls for a particular machine, it pays to have a local source for everything you require. At Carolina Cat, we are a leading heavy equipment dealer providing new and used sales and flexible rental services for construction machines, power systems, work tools, aerial lift trucks and more.
Our Hickory, NC, store is located at 1201 US-70 in Newton, just off exit 128 of I-40. Use the map on this page for directions and stop by to see us to learn everything we can do to help your business succeed.
Construction Equipment for Sale Near You
When you need machines capable of working as hard as you do, nothing matches the power and durability of genuine Caterpillar® equipment. As the authorized dealer for the region, Carolina CAT is home to an exclusive selection of construction, earthmoving, material handling and a variety of other models of equipment from the worldwide leader. Our highly trained equipment sales team will assist in analyzing your needs and identifying the solutions that can help boost productivity and improve your bottom line.
If you are looking to cut back on spending or have applications that do not require the latest models, we offer an array of used construction equipment manufactured by Caterpillar and other leading Allied brands. Shop nearly 40 product categories of well-maintained machines to find the solution that fits your budget and your requirements. We're the go-to source for top-quality Cat® Certified Used equipment and also offer monthly specials on pre-owned and rental rollout units at exceptional prices.
Equipment for Rent in Hickory
Carolina Cat is a leading source of rental equipment in Western North Carolina and the surrounding areas. We carry a broad selection of rental equipment for construction purposes ranging from compact and heavy-duty machines to work attachments and smaller tools. We offer late-model units made by Cat and other leading manufacturers that are expertly maintained by our certified technicians. Our rental equipment in Hickory also includes an extensive selection of industrial power systems and aerial lift trucks and work platforms.
Additional benefits of equipment rentals from Hickory, NC, include:
Competitive pricing on quality equipment with rent-to-own options available
Daily, weekly, monthly and longer-term rental rates for optimal flexibility
Reduced maintenance and storage costs of owning a larger fleet
Around-the-clock support and technical expertise from your local Cat dealer
Service and Parts
Safeguard your organization against disruptions and extend the life of your Cat equipment through our heavy equipment service offerings. Schedule any new part installation or equipment revamp, and we'll finish the job promptly at your site or our shop.
Our Hickory location also has a vast inventory of genuine Caterpillar parts, such as filters, fluids and seals. For an even larger stock, we can source from the Cat Parts online store. Our qualified staff also offers a training course that teaches you how to use the PCC website advantageously.
New and Used Forestry Equipment
Carolina Cat is well-equipped to serve local logging companies. From the forest to the millyard, strengthen your fleet with Weiler forestry equipment available at our Hickory location. Our stock includes knuckleboom loaders, wheel skidders and many more types of powerful, well-maintained machines.
Partner With Carolina Cat Today
For over 95 years, we have been serving the needs of a wide range of industries throughout our territory. It's our goal to be your trusted partner by providing superior quality and equipment solutions that lower operating costs and increase efficiency. Contact us online, give us a call at (800) 277-1212 and visit Carolina CAT in Hickory, NC, to speak with a knowledgeable representative from our sales team today.
Are you searching for technical assistance or do you have service questions? We have answers! Our Cat equipment helpline is the best way to get superior technical expertise directly from a trained professional. We move quickly to resolve your issue and minimize equipment downtime at your job site. Learn more!