Certified Rebuild Options
A rebuild can involve a complete overhaul of your equipment — effectively stripping it to its frame and replacing all wearable components — or it can be more targeted. Alternatives to a complete rebuild include a powertrain or specific component rebuild, or a "second life" rebuild — a less extensive option that will add years of life to an aging machine.
At Carolina Cat, we recognize that all clients, and all fleets, are different. Taking into account the age of your machine, your budget, your timeline for repairs, and your big-picture goals, the Carolina Cat team can recommend the right rebuild option for you. When it's time to do the work, we'll get the job done according to the highest standards of quality.
The Cost-Effective Option – Machine Rebuild
When most competitive models would require replacement, Cat equipment can be rebuilt to deliver a cost-effective second life. The extensive Caterpillar Certified Rebuild programs incorporate the very latest Cat technology and critical engineering updates into your machine at a fraction of the cost of buying new.
Our Rebuild Standards
As you'd expect, our quality standards are just as stringent the second time around – because only trained dealer service professionals and only Cat parts are used to complete a certified rebuild. Other benefits include:
7,000 new, reman, or reconditioned parts, including replacement of parts like harnesses, sensors, gauges, etc.
Critical engineering updates
1-year / 1,500-hour complete machine warranty
Extended Powertrain Protection – 3-year / 5,000-hour warranty included
Product Link hardware and access to VisionLink included

New Component Rebuild Center

Component and powertrain rebuilds are economical alternatives to a complete rebuild that focus our efforts on the parts of your machinery that are most critical to its performance. Component rebuilds are effective interventions that will deliver excellent long-term value by promoting improved efficiency and reliability in your fleet.
Because they involve work on the most sensitive and precision-engineered parts of a machine, it is essential that any major component rebuild is completed in a high-tech environment, using sophisticated tools and trained staff who know how to achieve the best results.
The Carolina Cat Component Rebuild Center is a state-of-the-art, contaminate-free facility that helps us deliver the highest quality rebuild to you. Here are some of the great features:
Meets all Caterpillar® and Industry contamination control standards
Upgraded Engine Dynamometer
Two new overhead cranes for a total of 17
Climate controlled
To receive a quote to rebuild your Cat equipment, contact your local Product Support Representative, or call (800) 277-1212.
Why Invest in a Cat-Certified Machine Rebuild?
The Caterpillar Certified Rebuild Program is about more than just saving money. It's also about making smart decisions for the future of your fleet. Here are a few of the many benefits to rebuilding your equipment instead of replacing it:
You can keep using the machines your team knows and loves. Rebuilding lets you avoid the hassle of training staff on new equipment, making it easier to get up and running, and reducing the risk of accidents that can derail your productivity.
You'll still benefit from new technology and other improvements. Rebuilding is an opportunity to add engineering upgrades and other advancements that will help your fleet run smarter and smoother. In other words, you get many of the benefits of a new machine, but without the expense or hassle.
You free up capital for other investments. As your business grows, your fleet must evolve with it. Navigating the challenges of this requires making the best use of your existing assets while planning proactively for the future. A machine or component rebuild gives you the peace of mind of Cat quality at a fraction of the cost of buying new, freeing up credit and capital for other purchases.
Let a Carolina Cat representative run the numbers and show you the value of investing in a certified machine or component rebuild. Get in touch to get started today.
Contact Us About Our Machine Rebuild Options
Multiple Machine Repair Options
Making a decision about equipment repairs shouldn't always just be about cost. Critical and common repair solutions exist within a range of factors in risk, cost, convenience, and assurance. Your Carolina Cat Product Support Representative will walk you through a series of questions and provide repair options tailored to you. Carolina Cat has the parts and repair options that are right for you, your machine application, and budget.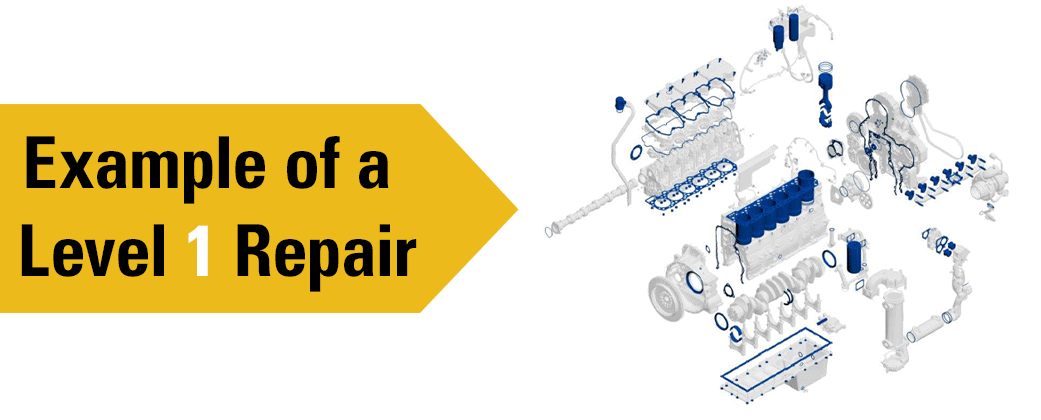 Check out our multiple repair options below:
Contact our product support team today to learn more about the multiple repair options available for your machine.