Products & Services
Construction Equipment
ph: (704) 292-1555
free: (800) 277-4060
fax: (704) 289-8500
Rental Stores
ph: (704) 220-4000
free: (800) 277-4060
fax: (704) 289-8500
Truck and Trailer
ph: (704) 292-1555
free: (800) 277-4060
fax: (704) 296-9194
Used
ph: (704) 292-1555
free: (800) 277-4060
fax: (704) 289-8500
Forestry
ph: (704) 292-1555
free: (800) 277-4060
fax: (704) 289-8500
Paving
ph: (704) 292-1555
free: (800) 277-4060
fax: (704) 289-8500
Caterpillar in Monroe, NC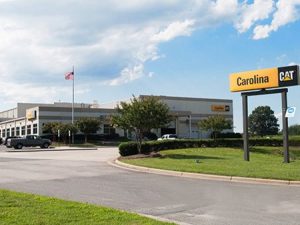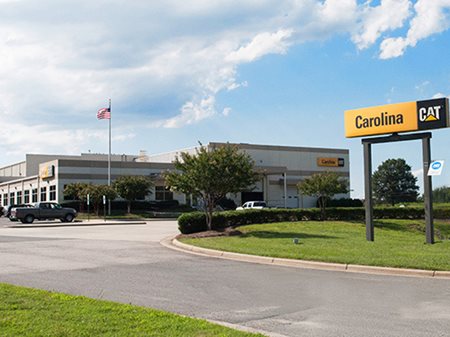 You demand high-performance equipment — and for that, you trust the Cat® name. Carolina Cat is proud to represent this venerable brand in Monroe, NC, and to provide your company with knowledgeable customer service and ready-to-perform Cat machinery that delivers on the values of performance, safety, sustainability and innovation.
Directions to Carolina Cat
If you're planning a visit to Carolina Cat in Monroe we're on Morgan Mill Road next to Marathon Gas — and are only five minutes from Tractor Supply.
Construction Equipment
Whether you're in the market for new or used equipment in Monroe, NC, our store features a complete lineup of machines. From bulldozers to motor graders, we have the hardware you need to dig into your next worksite. We also offer several financing options to fit your budget and payment preferences.
Rental Equipment
Downtime isn't an option. That's why there's rental equipment. We carry a wide selection of machines from Cat and allied manufacturers. To make your job easier, instead of harder, we offer flexible rates for our rental equipment. Get your aerial equipment, power systems and any other hardware you need in one place.
Trailer and Truck Service
When your trucks break down, your operations come to a standstill. At Carolina Cat, our trailer and truck services in Monroe, NC — which include preventative maintenance — maximize your equipment's performance, ensuring your work sites and transportation routes never take an unexpected breather.
Used Equipment in Monroe
Respect for your budget and performance requirements is what you'll find at Carolina CAT. Our stock of used equipment at our Monroe location offers affordable prices and pre-owned machinery that lives up to the Caterpillar name.
Forestry Equipment
We recognize the harsh work environment of forestry as well as the necessity for reliable equipment that performs day-in and day-out. That's why we carry the best new and used forestry equipment in Monroe, NC — to provide your company with competitively-priced options for powering your work sites.
Paving Equipment
Your industry runs on efficiency, which is why it demands machinery that delivers long-term performance. Our inventory of Cat paving equipment gives your team the horsepower and performance you need to ensure you meet your project deadlines.
Tackle Your Next Job with Carolina Cat
At Carolina Cat, we offer more than 90 years of experience to the Monroe, NC, community. Through our expertise, as well as our commitment to performance-grade equipment, we've helped companies and contractors throughout the area meet their projects head-on. Find the new, used or rental machinery you need by contacting us today at 800-277-1212, or by finding your local Carolina Cat sales representative.