The Leading Source for Servicing Cat Equipment
As the authorized Cat dealer for the region with over 95 years of industry experience, we're experts in working on equipment and machines manufactured by Caterpillar. Our field service technicians are highly trained and receive continuing education to ensure they are up-to-date on the latest tools, techniques and technologies.
Whether you operate a fleet of skid steers, mini excavators and other compact equipment, or your business utilizes large dozers and on-highway trucks, you can rest assured your valuable assets are in good hands. With dedicated compact and heavy equipment trucks and technicians, we have what it takes to make repairs on your site quickly and cost effectively.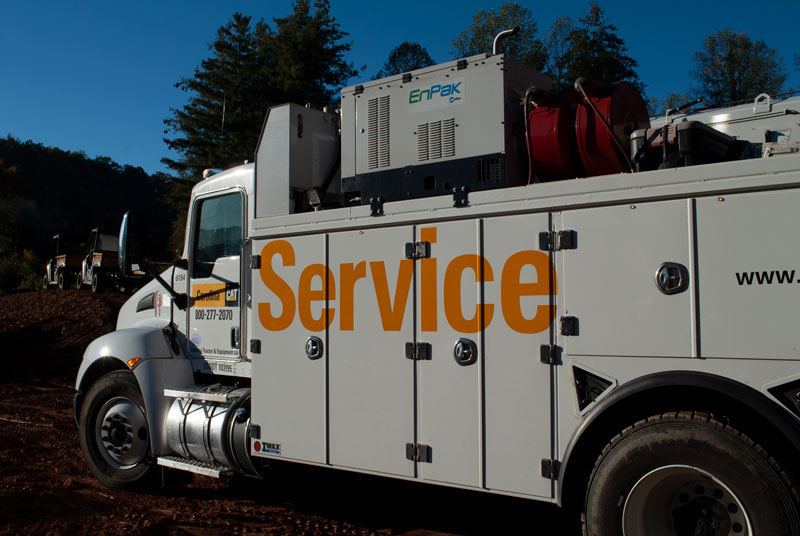 Full-Service Cat Field Maintenance and Repairs
When you contact us for Cat equipment field service, you benefit from the same selection and quality you get when you visit one of our shops. We offer preventive maintenance services, including fluid testing and analysis, as well as repairs of hydraulics, engines, powertrains, undercarriages and other systems and components. From onsite machine diagnostics and repair to equipment testing and adjusting, we have you covered.
Our factory-trained technicians are capable of working on all different model types and years of Cat equipment, and undergo 60 hours of training annually for continuous learning and improvement. By completing our training requirements, our professional field service members stay informed of the latest advancements in Cat construction equipment technology and diagnostics. We strive to pass on the benefits of this expertise to you and your company's operators, enhancing the speed with which your equipment can return to the job site.
Each of our mobile crews is equipped with everything required to diagnose and fix the problems you are experiencing. We'll always clearly communicate with you to ensure you're able to make informed decisions and choose the most efficient solutions.
Emergency Field Service
When a piece of mission-critical heavy equipment breaks down or isn't performing to the highest standards, it can negatively impact your bottom line. At Carolina Cat, we understand your concerns and go the extra mile to provide the support you need, quickly. And with emergency Cat field service crews deployed throughout our Western North Carolina territory, our fully stocked trucks will be at your location in the shortest possible time.
Contact Us to Request Equipment Field Services
When you can't come to us, we're happy to send our skilled and professional work crews to your location. We're proud to be the go-to source for field service for heavy equipment and customers across the region.
Give us a call at (800) 277-1212 or contact us for more information on our complete field service offerings and capabilities. Our knowledgeable customer service representatives are standing by to answer your questions and schedule a visit for maintenance or repairs.