Carolina Cat is excited to announce that we are now offering online sales through shop.cat.com/en/primecarolinacat.With this easy-to-use website, you can quickly find and purchase the Cat® equipment you need from the comfort of your home or office.
What Is Shop.Cat.com?
Shop.cat.com is a simple, comprehensive online ordering platform offered through Caterpillar® that allows you to virtually browse and buy Cat equipment for sale from Carolina Cat. When you shop via shop.cat.com, you will be able to browse our inventory, request a quote, apply for financing if desired, and reserve any machine, attachment or accessory you need.
How to Search
To access content specific to Carolina Cat, you will go to shop.cat.com/en/primecarolinacat and enter your location. These straightforward steps will get you started fast:
You can click on a specific machine to be directed to a page with all the appropriate models.
Click on the specific model to view more details.

How to Buy
When you find a model you are interested in, the online purchase process is quick and easy.
Select "quick order package" or "machine only." A "quick order package" includes popular, versatile attachments for the equipment as well as an Equipment Protection Plan, while "machine only" includes basic machine features.
Click "add to order" and review your cart.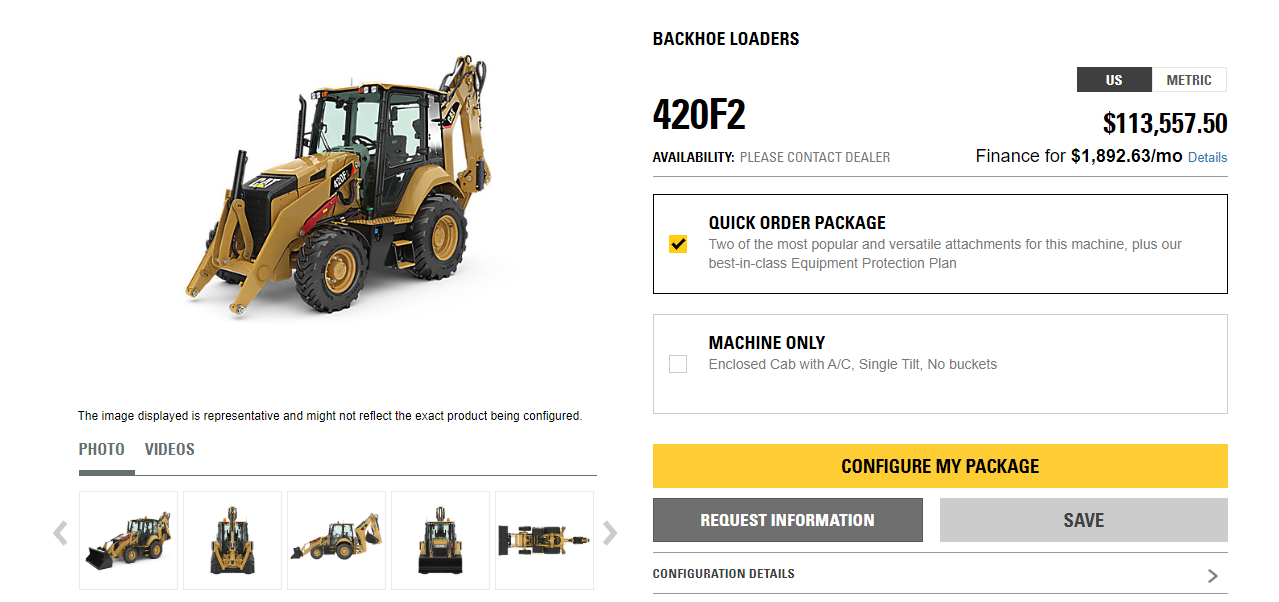 There are several different checkout options. First, you will be prompted to either login or check out as a guest, after which you will select your payment method. You can choose:
Cat financing
Personal financing
Credit card
Cash/check
If you have a Cat commercial credit card, you can use it to pay for non-machine items like UTVs, UTV accessories and attachments. You can also easily apply for the Cat commercial card through the website if you do not already have one.
Once your order has been placed, you will receive several documents via email with your purchase and financing details. You will also receive a direct call from the dealer to confirm these details as well as verify your requested date and time to pick up your equipment.
Cat Financing
If you select the Cat financing option, you will then click the "Start my finance application" button, which will open another tab where you will complete the credit application. You will be asked to provide business, ownership, references and other information in the application form.
Once you've completed the application, you will need to provide a virtual signature via DocuSign. Click "Finish" to submit the document, and you will receive an email confirmation that your application has been received. The review process is quick, and you may even receive same-day approval.
Benefits of Using Shop.Cat.com
There are many benefits to using shop.cat.com to buy Cat tools and machines, including:
Convenient: Find the equipment, attachments and accessories you need from the comfort of your home or office.
Easy to use: Browsing and buying is easy with our quick, straightforward steps and intuitive site design.
Finance options: Quickly and easily apply for Cat financing to make your purchase.
High-quality equipment: Industry-leading Cat equipment from Carolina Cat is at your fingertips with shop.cat.com.
Dealer support: When you buy online, you will still receive all the support services we offer at Carolina Cat. You can also get in touch with one of our expert team members at any point during your online shopping process.
Contact Carolina Cat Today
At Carolina Cat, we are committed to delivering superior service, parts and sales of construction machinery, power generation systems and on-highway trucks to meet every customer need. We know that when you need equipment for a project, you can't wait. With online sales now available through shop.cat.com, we aim to make buying from us as fast and easy as possible.
We have been an authorized Cat dealer since 1926 and currently operate 10 convenient locations throughout the state. We carry a full line of new, used and rental equipment, and we have convenient financing options available.
If you would like more information about our products, services or how to buy from shop.cat.com, you can give us a call at 800-277-1212 or complete our online form.