Products & Services
Construction Equipment
ph: (828) 251-2500
free: (800) 277-2070
fax: (828) 253-4713
Rental Stores
ph: (828) 285-9097
free: (800) 277-2070
fax: (828) 253-4713
Truck and Trailer
ph: (828) 251-4250
free: (855) 251-4250
fax: (828) 253-4713
Power Generation
ph: (828) 251-2500
free: (800) 277-2070
fax: (828) 253-4713
Services
ph: (828) 251-2500
free: (800) 277-2070
fax: (828) 253-4713
Carolina Cat in Asheville, NC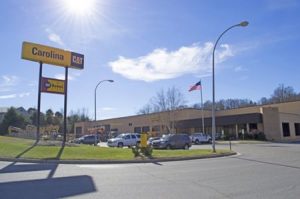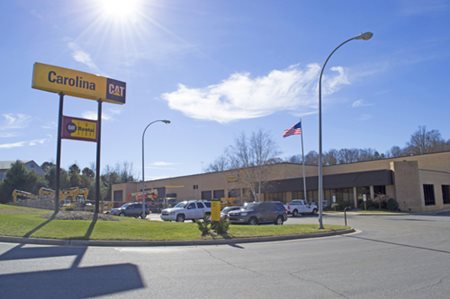 When your business depends on the productivity of construction equipment, power systems or on-highway trucks, it pays to have a reliable source for everything you require. If you're looking for a local dealer you can count on for superior services, parts and sales, Carolina Cat is a leading source for a broad range of industries.
Our Asheville, NC, location offers construction equipment, rentals, trucks, trailers and power generation solutions. We are conveniently located on 40 Interstate Blvd. off NC0191 S/Brevard Rd in close proximity to I-26.
Cat Construction Equipment
Carolina Cat is a go-to source for innovative and productive new construction machines by Caterpillar in Asheville, NC, and throughout Western North Carolina. We carry an array of models of articulated trucks, backhoe loaders, excavators, skid steers and virtually any other type of earthmoving equipment to meet your project requirements. You'll also find a variety of used machines manufactured by Cat and other leading brands.
Equipment Rentals
We offer rental equipment in Asheville and the surrounding areas to provide a cost-effective way to access top-quality machines and power systems on demand. From construction equipment, lift trucks and aerial work platforms to power system and generator rentals, you'll find a massive selection in stock.
Our rental fleet is made up of late-model units from Cat and trusted Allied manufacturers that have been meticulously maintained by our certified technicians. From competitive prices and flexible short- and long-term rates to unmatched service and ongoing support, our equipment for rent is the economical way to expand your capabilities.
Truck and Trailer
The truck experts at Carolina Cat provide everything you need to care for your commercial fleet. We offer professional truck services in Asheville and beyond, including maintenance and repairs on all different makes and models of medium- to heavy-duty trucks. Whether you need replacement parts and truck accessories or 24/7 emergency services, the support you require is never far away.
Power Generation
We are a recognized leader of distributed power for a broad range of industries. We provide a variety of power systems for sale in Asheville and the surrounding regions, including new and used diesel and natural gas generators in addition to automatic transfer switches (ATS), UPS systems and paralleling switchgear. Our experienced team can help custom-configure a power solution for your particular applications and regulatory environment.
Visit Carolina Cat in Asheville, NC
As part of the elite Cat dealer network, we're a local source for construction equipment, power generation and on-highway trucks. When you partner with us, you benefit from our personalized attention to detail combined with our world-class capabilities. Contact us online, give us a call at (800) 277-1212 or drop by our Asheville location for more information and to speak with a knowledgeable member of our team.