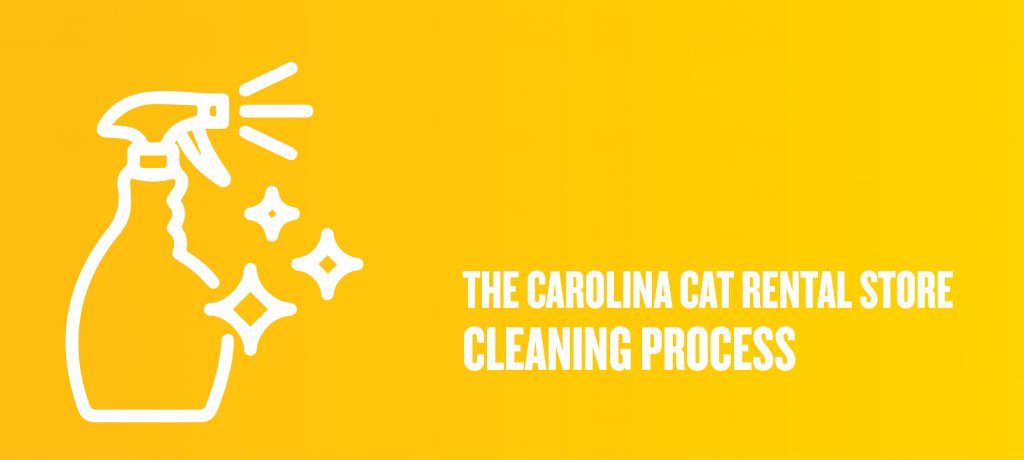 As the world continues to adopt to the new COVID-19 world, businesses and individuals are modifying their behavior to prevent contracting the illness. Here at Carolina Cat, we have taken our response to COVID-19 very seriously and quickly implemented numerous safety measures to protect our customers and employees. In addition to implementing social distancing and contactless experiences, we increased our disinfection efforts both in-store and through shared equipment.
The Carolina Cat Rental Store is committed to serving as your trusted partner, especially through these challenging times. To best serve and protect our customers, we have implemented a strict and thorough cleaning process for all rental equipment. Here is an overview of our cleaning process, from pick-up to delivery:
When the rented equipment is picked-up from a jobsite, the driver will disinfect any touchpoints, such as the operator station, monitors and any handles.
When the equipment arrives back at the Cat Rental Store Branch, the Service Logistics Coordinator will check the machine in and disinfect the equipment – wiping down all common touchpoints, monitors and operator station once again.
Now, the equipment is cleaned and inspected for any safety or mechanical issues. At this time, we are ensuring the machine is safe and all safety features are functional. We are reviewing all aspects of the machine are operationally sound, as well as mechanically inspecting the machine for any leaks and checking for any fault codes. The entire operator station is detailed and cleaned. Again, a disinfectant spray is used on all touchpoints.
At this point, the machine is ready to be rented and staged in the yard for rent. Once someone rents the equipment, it is pulled from the yard and disinfected once more.
If the equipment is delivered to the jobsite, the delivery driver will disinfect the machine once more after unloaded at site.
The Carolina Cat Rental Store is committed to providing high quality equipment, a seamless rental process and safe, disinfected equipment for our customers. Safety is our top priority, and we are your trusted partner through this COVID-19 illness.