The Advantages of Renting a Genie Scissor Lift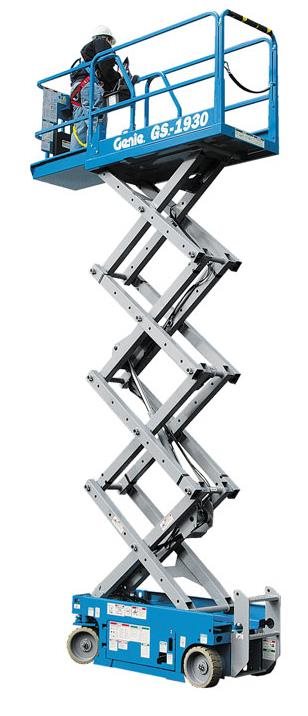 Trying to decide between renting and buying a scissor lift or other heavy equipment from Carolina CAT can be a tricky situation. It all comes down to budget, the frequency of use and personal preference. The most significant benefit of a scissor lift rental in Charlotte, NC, and surrounding areas is avoiding the steep initial upfront cost of buying new. Other pros of our scissor lifts for rent include:
Choosing between different makes and models that match your tasks
Eliminating regular and scheduled maintenance expenses
Gaining flexible renting schedules by the day, week or month
Having a machine that's ready to go when it reaches your worksite
Receiving serviced and maintained engines worked on by our trained technicians
Relying on a scissor lift rental for short or one-time jobs
Getting an immediate solution during emergency breakdowns
Using low-hour, well-maintained engines
Working with different lifts that help you determine what you need before buying
While Carolina CAT takes care of all your maintenance, we also provide on-site repairs and help you save on unnecessary storage costs. When you need more lifting power for a particular job, partner with us to work with the latest models available. Whether you work in a warehouse or construction site, perform outdoor maintenance or require a scissor lift for any other application or industry, make sure to consider your task, environment, weight and height.
Finding the Right Scissor Lift Rental Company
When you're looking at different scissor lift rental companies, there are a variety of reasons to choose Carolina Cat. We're a local North Carolina dealer with an experienced team that can give you advice on which scissor lift for rent is best for you. We offer rentals at a variety of locations to minimize any downtime.
Our different scissor lift rental locations include:
Asheville
Charlotte – Main
Charlotte – North
Charlotte – South
DeepGap
Greensboro
Hickory
Monroe
Troy
As an authorized local Cat® dealer, we have the knowledge and expertise when you're looking for a scissor lift rental. We have affordable rates and flexible rental options based on your needs. Our service team provides on-site maintenance and emergency repairs whenever you need it. We understand the pressures of your industry, and our goal is to get you the scissor lift you need quickly.
Browse Our Scissor Lift Rentals
When you partner with us for flexible renting options, we make the process as smooth as possible. Carolina Cat professionals will work one-on-one with you to help you choose a specific scissor lift for your task with the correct reach, height, control, platform size and load capacity. We consider your environment, application and budget to boost your bottom line and increase uptime.
Take a look at our selection of scissor lift rentals and contact us online for additional information about our scissor lift rentals or to inquire about renting today.