As Caterpillar® began preparing a new lineup of their D3 series compact track loaders, they had one thing and one thing only in mind: you. That's why Caterpillar directly reached out to operators to ask them what features they desired. After all, to build a machine that delivers, we needed to create one made specifically for you with all the features you need to succeed in the work that you do.
In this new D3 lineup, which was built on the D and D2 series' foundation of quality, there are eight skid steers and nine CTLs.
All the machines were built not only in response to your improvement requests but also to deliver even more. Experience the benefits of the all-new D3 lineup you inspired!
D3 Series Compact Track Loader Features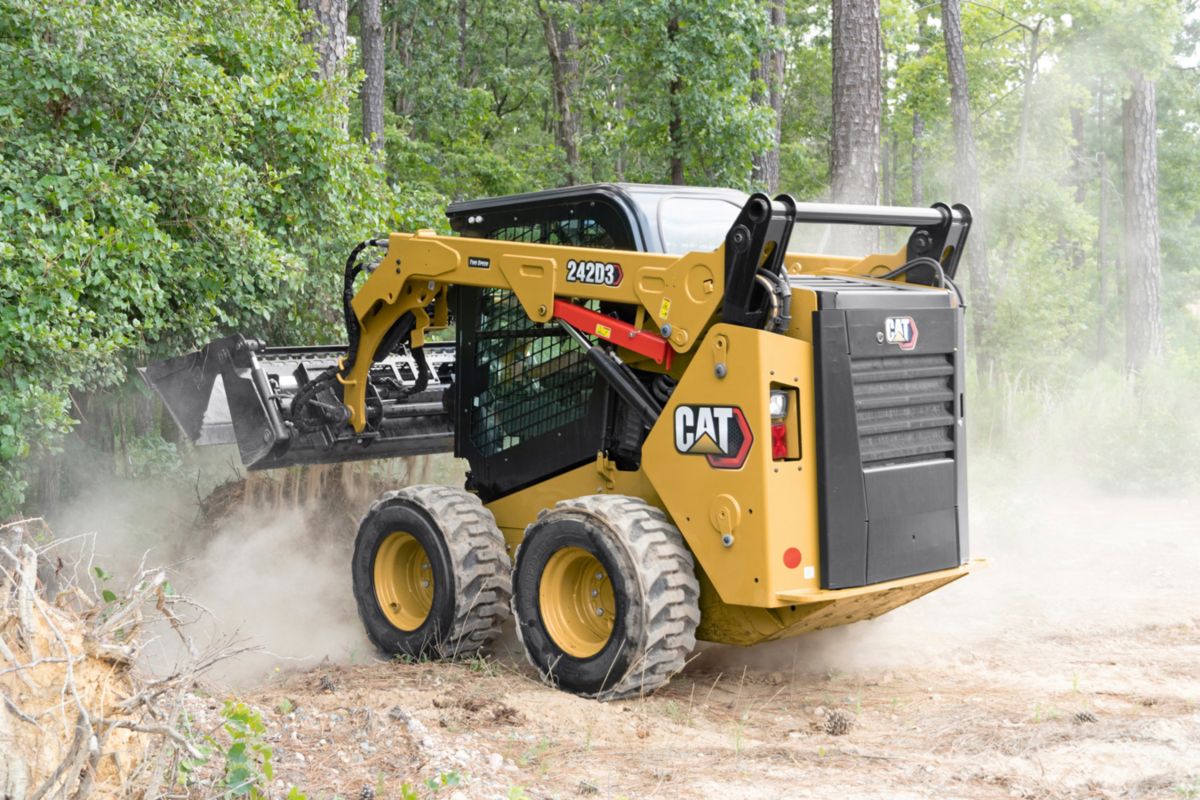 You asked, and we delivered. Now, the new line of D3s feature improvements in comfort, performance and technology.
Enjoy a Comfortable Cab Experience
When you are in a compact track loader handling heavy-duty tasks ranging from digging and loading to grading, comfort is key. That's why we designed the new cabs to have 15% more room inside. Even the door opening has expanded from the previous models and is now 40% larger to accommodate an easier entry and exit.
We also paid attention to the small details that contribute to your comfort. The joystick pods, for example, now have 3 more inches of space in between them.
Focus on Performance and Maneuvering
With the new performance-tuned undercarriage, you will be able to reach higher levels of performance and maneuverability. The main difference in this model compared to the previous ones is that the frame and torsion axles both cut down on the machine's pitching and rocking movements. With less movement, you'll have greater security and confidence to get the job done.
You'll have greater productivity levels too, with an increased capacity, which comes in handy when dealing with heavy loads.
Be More Productive
Because the new lineup features Smart Attachment integration, you'll be able to easily match your D3's attachment to the task you're working on. Your machine automatically detects which Smart Attachment has been added and then adjusts all of the controls and operator information to accommodate it. Now you can work smarter on all jobs with this productivity feature.
Customer-Driven Enhancements
While comfort, performance and productivity technology comes standard on the Cat® D3 series, Caterpillar also added extra enhancements. Some of these extras include:
A 14% speed increase in the 239D3 and 249D3 models
Thicker steel
Extra wear material
A Return-to-Dig setting for the machine's bucket angle
A larger fuel tank in the CTL
And more!
Contact Us About the New D3 Series Compact Track Loaders
With a customer-driven focus, you can be sure whichever model you select from the new D3 Series lineup will help you get the job done in the most comfortable and productive way possible. If you have any questions about the models or the features they come with, don't hesitate to reach out to the team at Carolina Cat. We look forward to partnering with you and helping you select a compact track loader that exceeds your expectations.