How We Serve You
NEW & USED
Carolina Cat helps your business succeed every day by ensuring you've got the right machine for the job. No matter what kind of equipment you need for your business, it pays to buy long-lasting, powerful machines and tools to work alongside you. We offer both new and used equipment for purchase so you can get the value you want for your investment.
SHOP NEW
SHOP USED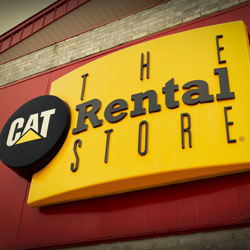 RENTAL
Whatever your need, whatever your industry, Carolina Cat carries a full line of rental equipment to serve you. When you don't need to make a long-term purchase for a piece of equipment or you're looking for alternatives to buying, a rental might be an ideal option for you. We ensure that our rental equipment is in excellent condition, so you get the trusted service you expect from every Cat machine.
RENT EQUIPMENT
When you're working on land management projects, you need a sturdy, reliable equipment for the job. Whether you engage in conservation or maintenance, managing canals or fields, equip yourself to handle the most demanding tasks with optimized productivity. Our tough Cat® machines and tools for landscaping work are here to help you create attractive and functional grounds in any environment.
At Carolina Cat, we carry an array of powerful equipment for landscaping work. We strive to ensure that you get exceptional service and products every time you work with us. As your trusted supplier, we have what you need for whatever job you're about to tackle.
How We Serve You
As the leading manufacturer of equipment for the landscaping industry, Caterpillar carefully engineers products to fit your worksite requirements. The intuitive design features and sturdy construction of each piece of Cat equipment reflect the expert manufacturing that went into it.
Carolina Cat offers durable, reliable products for many different landscaping tasks. Whatever you're tackling, we have the equipment you need to ensure that you can get the job done safely and efficiently. Our quality equipment includes unique features to bring you a variety of advantages:
Increased productivity: With Cat equipment that can do more in less time while still maintaining optimal precision, you can get the job done quickly and professionally.
Powerful performance: Cat machines for landscaping have the power to handle demanding work on all kinds of terrain.
Long-lasting durability: Since it's built to last, Cat equipment can withstand heavy use and continue to perform at its best every time you take it out.
Enhanced usability: With features such as dual self-level and creep control, ride control and a return-to-dig system, Cat landscaping equipment offers convenient operation on the toughest jobs.
Our Affiliates
We know the nursery and landscaping industry and the challenges you face daily. Our job is to help you do your job more efficiently and more profitably. To better serve your needs, we're honored to hold memberships in associations that are crucial to the landscaping industry. We are proud members of:
We are also proud to offer discounts on New Equipment for fellow members of the above associations.
Let Carolina Cat Handle Your Landscaping Equipment Needs
Whenever you need the right machines and tools for your work, reach out to Carolina Cat. We've been a trusted Cat dealer to North Carolina clients since 1926, and we continue to serve our clients today. For more information about partnering with us to get your landscaping equipment, get in touch with us today.