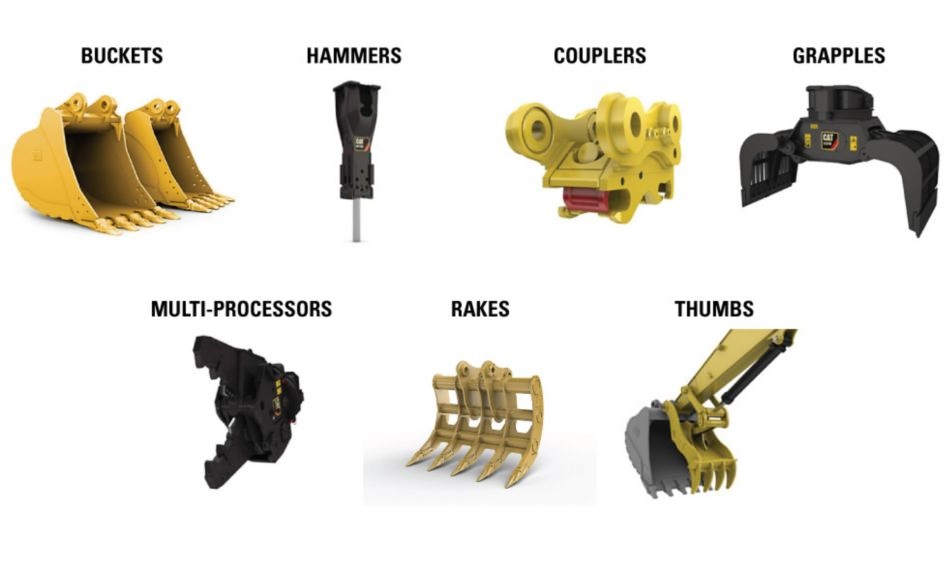 While excavators are known as powerful, efficient digging machines, they're also surprisingly versatile. By adding the right attachments, you can transform your excavator into a multifunctional piece of equipment that brings even more value to your job sites.
As the exclusive Cat® equipment dealer for western North Carolina, Carolina Cat offers a full line of Cat excavators that will help you get more work done in less time. We also carry a wide assortment of excavator attachments that will enhance your machine's performance.
Exploring the Various Types of Excavator Attachments
Depending on your project or application, you could benefit from excavator attachments such as:
Buckets. Excavator buckets have teeth that assist in breaking ground at your job sites. They also enable you to scoop and transport dirt and load it onto dump trucks. The different types of excavator buckets available include general, heavy, extreme and severe-duty versions. You'll also find models specifically designed for digging, ditch cleaning, breaking rock and performing cleanup tasks.
Augers. An auger attachment enables you to use your excavator to dig postholes, tree and shrub plantings, and footings.
Grapples. A grapple is a claw-like tool that makes it easier for the excavator to grasp and hold objects during material handling projects. You'll find grapples for tasks such as trash removal, land clearing, forestry work and demolition and sorting.
Hammers. Use a hammer attachment to break up concrete and other solid materials at quarries, construction and demolition sites, and other high-volume production-breaking operations.
Rakes. Landscaping and forestry operations can use a rake attachment for jobs such as site preparation, land clearing and brush piling.
Thumbs. Thumb attachments make it easier for your excavator to handle rocks, stumps and pipes.
Multi-processors. A multi-processor attachment delivers the superior cutting and crushing force required for reducing large debris into smaller pieces at construction and demolition sites. Choose from a wide selection of powerful jaws, including concrete cutter, demolition, shear, pulverizer and tank shear versions.
Couplers. Excavator quick coupler systems facilitate fast, easy attachment changes. In most cases, the operator won't need to leave the machine's cab to make a switch.
The Importance of Choosing the Right Excavator Attachment
Caterpillar manufactures many excavator versions in multiple sizes and configurations. You'll also find numerous attachment variations. For instance, there are more than a dozen specific excavator bucket types and several individual models within each category.
However, not every attachment is compatible with each machine. The right match will give you the performance you expect while helping you avoid any equipment damages or safety risks.
One benefit of choosing Carolina Cat as your equipment dealer is our experience — we've been in business since 1926, and nobody knows Cat equipment better than us. Trust our expert staff to recommend the right attachment for your machine and job site tasks.
Browse our lineup of new Cat excavators for sale and our selection of attachments for excavators and other heavy equipment today. You can also contact us for more information.