Fast and Dependable Service for Your Cat Equipment
Over time, even high-quality Cat construction equipment shows signs of wear and tear. In fact, undercarriages account for as much as 50% of maintenance costs. By partnering with Carolina CAT, you can reduce costs and downtime for maximum productivity and performance.
Our factory-trained technicians have years of experience performing undercarriage services and rebuilds quickly and effectively. We'll make sure your undercarriage is running at its original specifications.
We start by inspecting the undercarriage to identify which components need the most attention. Are parts broken or missing? Are track linkages loose? At Carolina CAT, we've got you covered for any of these common undercarriage setbacks.
Next, we identify parts that need to be replaced or repaired. Many times, an existing undercarriage does not need to be replaced entirely. Our technicians can rebuild your undercarriage and save you the costly expense of a replacement.
We offer full-service undercarriage maintenance, adjustment and repairs, including:
Component repair and replacement
Pin and bushing turns
Track assembly and adjustment
Link repair
Equalizer bar and pivot shaft repair
Our machine shop has vertical, turret milling machines, automatic sub-arch welding machines and armor-plated recoil bench equipment to meet your adjustment and repair needs.
Need a maintenance or repair of your undercarriage at a work site? Our Mobile Field Service Teams are at your service. We'll come to you to perform prompt and dependable service so that your construction equipment can get back to the job at hand.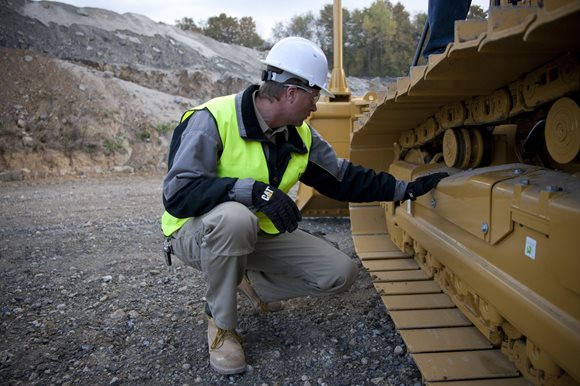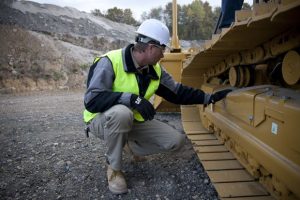 Top-Quality Undercarriage Parts
Carolina Cat uses quality undercarriage parts to ensure our repair and replacement services are top-notch. We work only with new or reconditioned OEM-quality parts, so you can get the most value from your Cat investments.
Our undercarriage parts include:
Track assemblies
Idlers, sprockets and rollers
Track guarding and guides
As your partner, we're dedicated to serving your business through superior equipment parts. That's why we work with top manufacturers such as Trek, ITR, KTSU, Berco and Valuepart. You can rest assured that your undercarriage parts will be durable and dependable to keep you up and running.
Your Trusted Partner for Undercarriage Service
Since 1926, we've served customers in Western North Carolina by providing the highest value Cat equipment, superior parts and prompt, dependable service.
We understand that downtime and machine malfunctions cost you money. That's why our experienced technicians take pride in performing cost-effective, fast service on your heavy-duty construction equipment. Bring your machine to us or let our mobile field team come to you. Either way, we're at your service for any undercarriage job, including planned maintenance, adjustments, repairs, and replacements.
Need non-Cat undercarriage service? We've got you covered. We have a team that is highly knowledgeable and skilled with all manufacturers of undercarriage. When you're searching for heavy equipment undercarriage parts near you, Prime Source provides reliable aftermarket products, available both new and used, to help your budget stretch further. Contact us for more information and to place an order for heavy machinery steel undercarriages, rubber track undercarriages and everything else you need to get the most out of your fleet.
Get in touch with our team online or call (800) 277-1212 to learn more or schedule an undercarriage service appointment.