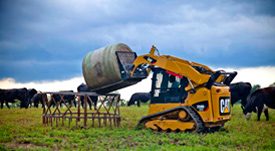 The agriculture industry is continually experiencing new changes, and 2021 promises to be no different. Understanding agriculture trends is important because they affect other sectors of the economy, including real estate, restaurants and supermarkets. Today's trends are also the beginning of the future of agriculture in the United States and internationally. Let's look at the top four agriculture trends for 2021.
1. Hemp Farming Growth
The 2018 Farm Bill made hemp cultivation and sales in the United States legal. Hemp is an attractive crop because it has minimal maintenance requirements, suppresses weed growth, decreases plant disease and improves soil conditions. On the sales side, hemp is quite versatile, used to make building materials, car parts and personal products. The high demand for hemp and CBD-based products led to an increase in licensed hemp acreage in 2019, even on small farms.
Despite hemp's popularity, farmers face many restrictions, including obtaining a permit from the Drug Enforcement Agency (DEA). Hemp production is expected to grow in 2021 — in 2020, hemp farmers became eligible for federal crop insurance and the Federal Credit Union Administration allowed accounts for hemp businesses.
2. Bringing in the Next Generation of Farmers
The number of farmers in America has been on the decline for decades, so many farmers are from older generations. The average age of farmers is 63 to 65, so there is a need to encourage younger generations to work in this vital sector. Challenges like the cost of land, student loan debt, lack of skills and limited health care options prevent non-generational individuals from entering the field.
Young farmers have proven valuable to farming practices by changing technology trends in agriculture to yield more crops from less land. They also have changed agriculture equipment trends by using new equipment technology to increase their productivity. Youth involvement in agriculture needs to be encouraged so more people find their place in this rewarding workforce.
3. Tariffs on Agricultural Commodities
Many American farmers sell their crops locally and internationally. However, many countries have tariffs on U.S. products like cotton, grains and soybeans. Low commodity prices and poor weather conditions alongside high tariffs lead to lower sales. In recent years, farm loan delinquencies and bankruptcies have increased, inspiring the Family Farmer Relief Act in 2019 to open global markets. 2021 hopes to restore American farmers' place in the market.
4. High Water Usage
Water is vital to many crops in the U.S. yet water access continues to be an issue due to limited resources in some states. Agriculture is the largest consumer of water, so farmers need ways to reduce their water consumption. Sustainable methods include harvesting more water on their fields, reducing the water they use and reusing their water.
Browse Heavy Equipment at Carolina Cat
While trends in the agriculture industry continue to change, our commitment to our clients will always stay the same. Carolina Cat has the equipment, attachments and rentals you need for your farming operation, and you can trust our decades of industry experience.
Browse our heavy equipment to find the ideal addition to your fleet or complete our contact form for more information.