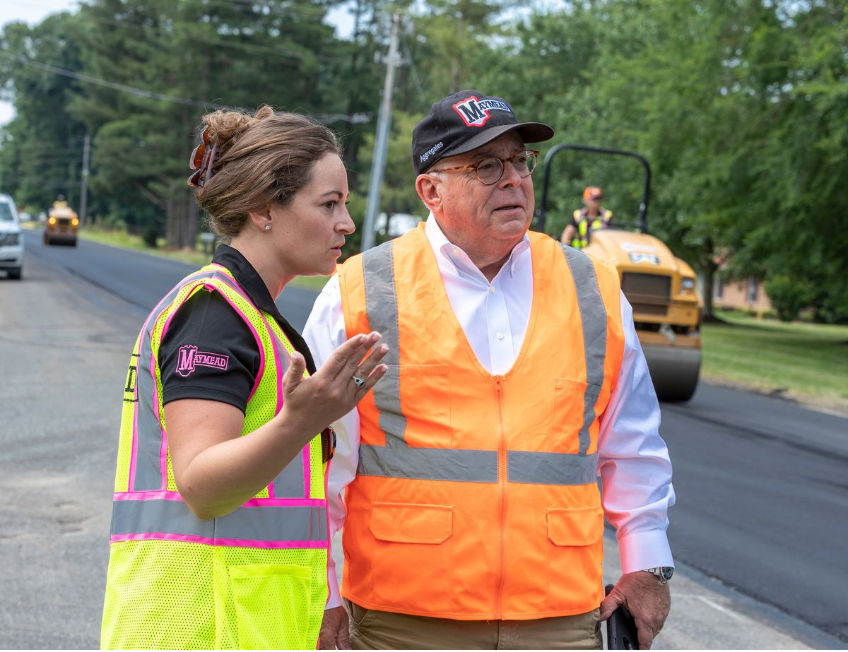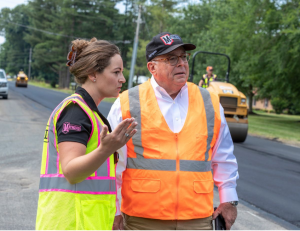 For a company whose roots date back to 1747, Maymead Inc. has taken a decidedly progressive approach to hiring — employing what may be the first all-female paving crew in the nation and opening the construction industry's eyes to an untapped market of potential workers.
It all started in the summer of 2018, when the asphalt construction services provider was short a couple of operators on the night shift. Mary Katherine Harbin, area manager for the Tennessee-based company, volunteered to help out.
"I went out that night and ran a paver — a 1055 on a four-lane road — and it was the most empowering feeling," she says. "Then I looked around and said, 'If I can do it, and I have a degree in English, anybody can do this if they want to."
Turning Inspiration into Action
Inspired by her experience at a recent Caterpillar Women in Leadership Conference, frustrated by the fact that Maymead was struggling to fill open positions and armed with the knowledge that women make up just 2% of the employee base in construction, Harbin took action.
She began running ads geared toward women, making it clear that paving experience wasn't a requirement to be hired. She also played up the "women only" aspect of the crew, believing it would help applicants feel less intimidated about taking on something new.
"You don't have to know anything about what we do," Harbin says. "We will train you. We can train anybody that's willing to learn."
Hear from Mary Katherine Harbin and her all-female paving crew
But recruiting female pavers wasn't her only challenge. Harbin also had to convince Maymead's predominantly male workforce that a women-only crew was a good plan. It didn't take her long to bring them around to her way of thinking.
"I'm a number's guy," says Wiley Roark, president of Maymead (and Mary Katherine's father). "When Mary Katherine explained it statistically, it became apparent to me that there was a pool of people that were probably not being reached by our industry."
Proving Themselves on the Job
Pulling together a group of women undaunted by the hard work, long hours and hot conditions of paving didn't take long, either. Maymead's all-female crew went to work in August 2018, just a few months after Harbin proposed the idea. After earning their stripes on the job using existing machines, they took the controls of new Cat® paving equipment marked with a special pink racer stripe.
"I was excited about coming aboard," says Bianca Witherspoon, one of the crew members. "We're coming together and doing something that society stereotypes as a man's world."
And once Maymead's male workers saw the results the crew was delivering on the job, any hesitations they may have had about the women-only initiative went out the window.
"These ladies are doing a great job," says Chris Barlowe, Maymead's operations manager. "There's nothing they can't do and they're proving it every day."
"THESE LADIES ARE DOING A GREAT JOB. THERE'S NOTHING THEY CAN'T DO AND THEY'RE PROVING IT EVERY DAY."
Taking the First Step on a Bigger Journey
In fact, Harbin's grandmother and vice president of Maymead, May Roark, believes there may be some good-natured competition arising between the men and women.
"It's amazing how well they've taken on to it and what a good job they're doing," she says of the all-female crew. "Some of the men are a little jealous."
For Harbin, establishing Maymead's women-only crew is just one step in a much longer journey toward bringing more females into the industry.
"To be a woman in construction doesn't mean you need to be on an all-ladies paving crew," she says. "It means that you're willing to show up, you're not intimidated, you're guaranteed a safe environment and you can do the job just like any man can."
Perhaps, even better.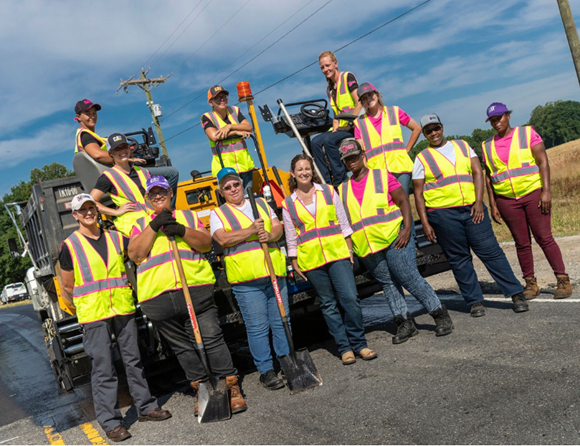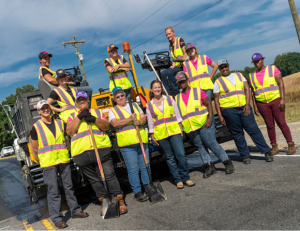 Mary Katherine Harbin, area manager for Tennesse-based Maymead Inc., broke new ground when she helped establish what may be the nation's first all-female paving crew.
This article was originally published in the Caterpillar Customer Stories blog. Read Article >
Related Articles: