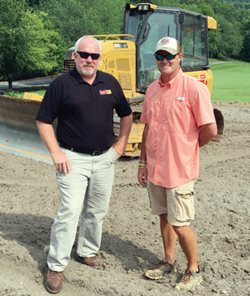 Marc Burger, Burger Shaping LLC, Irmo, SC, recently hit a hole-in-one on his latest project at the Country Club of Asheville. Burger completed a Donald Ross restoration under the direction of Richard Mandell, the golf course architect on the project. The job involved reshaping the entire green surface of the club's golf course. According to the Donald Ross Society, many courses designed by the Scottish-born golf architect were badly renovated by architects who cared little for traditional design values. In recent years, however, a dedicated group of restoration-oriented architects have faithfully devoted their talents to restoring and bringning back Ross' work.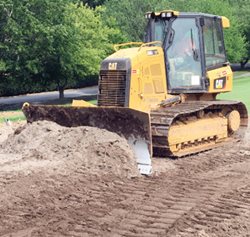 Burger was the perfect fit for this project due to his extensive experience in the landscaping and golf course industry. Following graduation from the University of Georgia with a landscape architecture degree, he received advice from two golf course architects who said he needed more field experience. For his first project, he was a summer intern for a contractor working on the Palm Beach Polo Club in Wellington, Fla.
"I worked with a construction crew and started building. It gets in your blood, and that's it," said Burger. "I knew that I'd rather spend every day outside rather than in an office drawing on a piece of paper."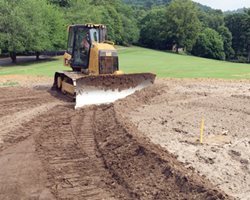 Today, he is an independent contractor, working for small and large companies. He even owned his company at one time, but found the work constrictive. As a subcontractor, he said that he has more control over which jobs he will take on.
On this latest project, Burger and Mandell restored and reshaped all 18 greens at the Country Club in Asheville. Although there were challenges on the project, Burger said that his equipment helped him get the job done.
"Some of the greens, in particular the number 12 green, were very high up on a hill," said Burger. "All of the members swore that it was an original grade. Well, when we started cutting the green down we actually hit the old green and it was under seven feet of dirt that had been imported, we think, from when they dug the irrigation lake. So you are pushing red clay and all of a sudden you hit the sand, which is a foot deep, and we are actually able to scrape it off. We got about one half the green scraped off so Mandell discovered the original elevation when Donald Ross built it, was actually seven feet lower, than what it is. So you find all kinds of surprises like that when you build these courses."
Burger said the elevation of the course stayed the same, and Mandell, using information from older country club members, designed the contours on holes one and three. He also relied on the Donald Ross Society for notes and information as well as notes from the country club on the original construction. He said that he tried to mimic the original course as closely as possible.
The complex project was made easier with the use of a Caterpillar D5K2 LGP track-type tractor, which was rented from Carolina CAT. Burger said the cab visibility was a great feature as well as the responsiveness of the blade, which is important because he uses the dozer blade as a shaper. Burger also said the new grade control system on the D5 dozer was an extremely helpful feature of the machine, and the telematics system helped track fuel consumption and as well as other systems.
The level assist shows you what percentage you are running on both forward and back and side to side, which is extremely helpful in this business. It cuts my shaping time, particularly on greens, almost in half of what it was before. Previously, when I needed a percentage, I would have a laser set up, and I would have to get out and physically shoot the grades. With this system, I can do everything from the seat of the dozer." – Marc Burger, Burger Shaping LLC
"The level assist monitors the grade of the machine you are sitting on. So if I am grading and I need two percent, I just get on two percent — I just watch the monitor. We feel a lot of grades when we shape, so ifyou start out on two percent, you can pretty much carry two percent. It's nice to have a reference to check without getting out of the machine, shooting a grade, then finding out you are wrong and then getting back on and so on. From what I have experienced with this machine, I save roughly 50 percent of shaping time on a green because it's all about percentages."
The dozer performed flawlessly, and Burger said he's confident that Carolina CAT was the right choice. He said that the dealership is a great business with a great reputation.
For more information about Carolina CAT, visit www.carolinacat.com.
For more information about the Donald Ross Society, visit www.rosssociety.com.
(This story also can be found on Construction Equipments Guide's website.)