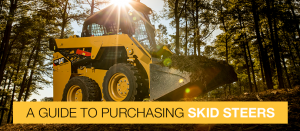 Skid-steer loaders are the workhorses of the labor world. From the grounds of a construction site to the insides of manufacturing warehouse to the landscaping upkeep of a sprawling farm, where there's large manual work to be done, there has to be a skid steer.
Yet finding the best skid steer for your money — and for your project — can be a tug-of-war of competing interests. Because there is a range of frame types and functionality, buyers usually research specs and information to find the right skid-steer specifications for them, be that new or used.
Below is our complete guide to purchasing Cat® skid steers. From sizes and hydraulic flows to common attachments and brand-specific technological features, read on to ensure your next skid-steer purchase will be right for you.
1. Understand Skid-Steer Sizing and Specifications
Size is your first major question to consider when selecting the perfect skid steer. The rigid-frame builds, load balance and strong maneuverability of skid steers make this equipment choice hard to beat for a number of project applications — yet also causes confusion, since these features aren't always standard across sizes.
One size does not fit all when it comes to skid steers. Bigger is not universally better, while smaller units come with their own limitations and maintenance details a savvy purchaser shouldn't overlook. It's important to consult skid-steer size charts to take into account three major variables: A unit's engine model, its horsepower and its rated operating capacity (ROC).
Assess the following variables to understand the right-sized skid steer for your exact needs:
Terrain: What kind of terrain is your project taking place on? Flat or hilly, rocky or soft, rotated dirt? Is the environment wet or dry, compact or loose? How will the weight of your skid steer work against your job site's environment?
Usage: Consider all the details of your project and what you expect to use the skid steer for, from loading and hauling to drilling, boring or excavation. How many hours a day will the steer be used, and what are the operating load weights or capacities you'll need to match expected workloads? Does your desired unit have an engine model and horsepower fitting your projected use?
Agility/maneuverability: Will your skid steer need to move within tight, limited spaces, like streets or busy construction yards? Or will it be skimming along open planes, such as farmland, ranches or parking surfaces? Where a skid steer will be operating determines what size best gets the job done.
Rated operating capacity (ROC): Skid-steer weight loads range far and wide across sizes. Smaller-framed units bear 1,500-2,000 lbs., whereas midsize to large units run ROCs up to 3,000 lbs.
Small-Frame Skid Steers
Compact or utility skid steers are some of the most versatile and efficient on the market. These small-framed machines' operating capacity typically falls between 1,300-1,750 lbs. with a 50-70 horsepower (hp), lending them useful for projects with small job-site dimensions, difficult terrains and lots of necessary movement.
Pros of small-framed skid steers:
Price: Small-framed units are the most affordable on the skid-steer market — perfect for the first-time buyer with standard usage needs.
Compactness: While the units run smaller, their frames and builds are no weaker or less sturdy than larger counterparts.
Maneuverability: Compact skid steers can often turn in their own tracts and offer the most operating comfort.
Cons of small-framed skid steers:
Lower operating weight: With smaller units come smaller load bearings.
Fewer possibilities for attachments: Your ability to use specialty gear and attachments will be limited when using compact frames, as their engine models and horsepower can't provide the muscle for specialty attachments.
Larger Skid Steers
Larger-grade skid steers pack the most punch. Their operating capacities start in the 2,000-lbs. range, though it's not uncommon to find brand units between 2,700-3,000 lbs. and with horsepowers in the 70s.

Pros of large-framed skid steers:
Horsepower: Larger skid steers court larger horsepower, which means you'll have the muscle for all the attachments and hydraulic pump running you need.
Versatility: From loading dump trucks to clearing brush to high-capacity rock saw attachments, larger-framed skid steers provide a dynamic canvass for your project's grittier components.
Cons of large-framed skid steer:
Less economical: The sticker price investment on a large unit can be hefty and up front.
Maintenance: Machine maintenance, as well as warranties, inspections and brand-part dealerships may get trickier the larger and more specialized a machine.
2. What Horsepower Should Your Skid-Steer Have?
Next, you'll want to consider the power of your unit when buying a used or new skid steer.
More and more, brands are including a variety of power measurements when advertising their skid-steer loaders, with these numbers and readings meant to differentiate their equipment but often indicating similar functionality. Knowing what's the best skid steer to buy means navigating these definitions and terminology.
Power: The rate at which work is done. Power is measured using many standards, from watts and kilowatts to the complementary conversion of horsepower.
Horsepower: A unit's power capability that equals raising 550-foot-pounds per second, or 33,000-foot-pounds per minute. A machine's horsepower identifies the maximum power amount it's able to sustain. It is the most common reading for engine types, including skid steers. Certain manufacturers may choose also to include engine power, though the definition is operationally identical.
Output: The variables affecting a skid steer's overall power output include engine size, operating speeds, ROCs and torque. Generally, the larger the engine size and horsepower, the larger the operating speed and the duration at which it can sustain its power output.
While the most popular machines typically range from horsepowers in the lower 50s into the mid-70s, it's not merely the raw number that makes or breaks a skid steer's capabilities. Horsepower also provides a machine's natural traction and pull, what kinds of attachments you can use and the running and maintenance of your hydraulic pumps.
3. How Do Hydraulics Power Skid Steers?
Skid steers are dual-powered through their diesel engines and hydraulic pumps and systems. Hydraulic systems use pressurized, or hydraulic, fluids to power their associated machinery, rather than other fuel sources or the raw flow of materials. They're a vital component to your machine's overall output and getting the best skid for your project operations and budget.
A skid steer's hydraulics system is at the heart of its overall maintenance and full-power output. It's these hydraulic capabilities you want to assess next when deciding what skid steer to buy and which will be the most cost-effective for your work.
For skid-steer specifications, there are four central hydraulic pumps that aid in overall power output, as well as auxiliary hydraulic systems to understand.
Four hydraulic pumps:
Two variable-displacement pumps create energy for two hydraulic-powered drive motors located in the mainframe of the skid steer.
A larger fixed-displacement pump provides the power needed for a skid steer's loader arms and any attached accessories.
A smaller fixed-displacement pump lends complementary hydraulic circulation for fluids throughout the engine filter, as well as powers pressure needed for the unit's pilot controls.
Auxiliary hydraulic system types:
Standard-flow auxiliary hydraulics package. A standard-flow system commonly ranges from around 17-25 gallons per minute (gpm). It is the auxiliary system you'll find automated on nearly all skid steer models. These auxiliary systems work in tangent to power the most common unit attachments. Think accessories like buckets, hydraulic augers and hammers, with pressurizations averaging 3,000-3,500 pounds per square inch (psi).
High-flow auxiliary hydraulics package. Upgrading a skid steer to a high-flow auxiliary hydraulics package means enhanced attachment options, run times and productivity. While they still operate under the same standard pressurization — 3,000-3,500 psi, they increase the pressure flow rate up to 38-40 gpm. High-flow systems can be added on to new skid steers purchased directly from a manufacturer or built into used steers. They're necessary when project attachments require high-flow rates in order to work, such as rock saws or landscaping mulchers and shredders.
Enhanced high-flow auxiliary hydraulics package. To get the most from your pound-per-square inch flow, enhanced high-flow packages can be installed into your skid steer to boost their output to 4,000 psi. They maintain similar gallon-per-minute rates as their high-flow counterparts, and are required for attachments that need the maximum hydraulic pressure allotment to run.
What Attachments Are Available for Skid Steers?
Once you've solidified your skid steer's size and usage, as well as its necessary engine horsepower, output details and the power lent from its hydraulic systems, you can now move on to the next phase in your purchasing decision: the best attachments for your skid steer.
Attachments are as much about form as they are function. They're the extensions your units need to get a project done, yet must be compliant with your skid steer's safe carrier operating specifications, flow rates, horsepower and ROCs.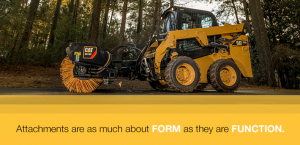 When it comes time to buy your new or used skid steer, attachments can't be an afterthought. They're engineered for specific purposes and are meant to be installed with particular steer units. When matched correctly, they complete a project in the smoothest and most efficient manner. Here, we've compiled a list of the most common skid-steer attachments for you to have on hand at your work site:
Augers: Augers allow for smooth and seamless ground boring. Across soil states and varieties, augers offer different speed and torque options to dig through and extract dirt without any problematic engine stalling. Explore the various auger bits on the market to find one best designed for your site's terrain.
Backhoes: For superior digging and excavation with your skid steer, nothing beats a backhoe. These attachments are controlled from inside the cab, designed and engineered to allow digging and shifting from the operator's seat. Certain new skid steer models can come equipped with optional auxiliary hydraulic backhoe lines for attaching further hammers, augers, thumbs and other accessories for maximum digging utility.
Blades: Blades scoop, move and smooth over materials in a range of landscaping and construction applications. Their smooth surfaces, angled dimensions and reversible cutting edges mean you can cut and push rocks, dirt, debris, snow, brush and more — all in one swoop.
These are only a number of the dozens of attachments that can outfit a quality, new or used skid steer. Your skid-steer specifications and job type will likely determine which ones you'll require and should be considered right alongside other key unit variables like horsepower and hydraulics — not just as an afterthought.
5. Technology to Consider When Choosing a Skid Steer
Carolina Cat's skid steers come engineered with the latest Cat-branded developments and service solutions. The range of technology you can add to your skid steers ensures you're getting the right equipment for the right job — right from the beginning.
Fleet Management Solutions
Cat offers some of the latest electronic, computer-analyzed fleet communication software and oversight in the industry. Using both remote and on-site technology, a Fleet Management Solutions Package provides security and maintenance reports for all included equipment, as well as production and efficiency reports to maximize your skid steer outputs better.
Tier 4 Technology
Outfitting new and old equipment with Tier 4's suite of equipment technology is another way to improve the lifespan and efficiency of a skid steer purchase. Tier 4 Technology brings innovative, personalized upgrades to the engine electronics, fuel and air systems of a unit, explicitly based on that unit's engine size, routine tasks and jobsite location.
Skid steers with Tier 4 installation will increase machine efficiency while reducing maintenance and operating costs — plus cutting down on particulate matter (pm) and oxides of nitrogen (NOx) emissions.
Grade Control Earth Moving Solutions
From cutting-edge GPS equipment and electronic control modules to improving on-site procedures and project timelines, Caterpillar offers two technological solutions for enhanced skid steer landscaping operations: AccuGradeTM Grade Control System and Computer Aided Earthmoving System (CAES) for landfills.
Vital Information Management Systems
A staple of Cat's overall tech solutions, your local Cat dealer can put together a complete data-management system for your skid steers that integrate data for unit oversight, productivity, safety and sustainability best practices.
Additional Skid Steer Technological Innovations
What's more, both new and used Cat skid steers maintain a crucial network of technological components that keep units running smoothly. It's these very technologies that allow you to reap the rewards of these durable, versatile machines.
No mechanical transmission: A premium hydraulic motor powers each side of a skid steer loader. These two motors each connect to a partner sprocket, and each of these sprockets then connects through industrial chains to the wheels. This simple yet streamlined system allows for the power generated by the motors to evenly distribute to the wheels, as well as reduce gear wear and increase wheel torque capabilities. The no-mechanical transmission design is as timeless as technology gets.
Powertrain: Overall powertrain design rests on the combined technology of a skid steer's diesel engine and hydraulic pumps. Together, they provide efficiency unparalleled in gasoline engines and can stand up to the 8-12 hour workdays on any industrial site.
Quick coupler systems: New, brand-name skid steers come designed for tool attachments that universally lock into place with your hydraulic flow rates. No more worrying about leakage or time-consuming attachment swaps between functions.
6. Buying a Used or New Skid Steer
The final question to ask when picking the best skid steer often comes down to this: new or used? The determining factors between gently used and just-off-the-line models mean a lot to your project's probability — and to your wallet.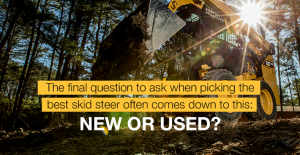 Yet don't fall trap to assuming the most affordable skid steers are always pre-owned. Like every detail about skid-steer machinery, deciding between a new or used skid steer should come down to prioritizing the project's needs, its timeline and your unit's usage.
Pros of buying a new skid steer:
Extended two-year warranty: The quality inspections, coverage and care that comes with skid steer warranties is hard to beat. Caterpillar's twenty-four-month or 2,000-hours warranty offers twice the coverage on compact machines like skid steers, protecting against unexpected repairs or maintenance. What's more, Cat Financial Services bolsters warranties with a complete suite of Equipment Protection Plans (EPP), customizable when starting at 36 months, as well as Customer Support Agreements and Engine Warranty Registration.
Opportune financing: Many skid steer dealers offer flexible payment plans and bi-yearly financing terms for those who qualify. At participating Cat dealers, current offers allow you to purchase a new skid steer loader with a two-year standard warranty at 0-percent APR. You can further mitigate financial risks through Cat Insurance, additional services and resources to protect your investment.
Tax benefits: In some cases, you can write off your new equipment purchases in Section 179 of your tax deductions.
Fresh, corrosion-resistant coatings on parts, metal components: Ensuring the highest quality and highest functioning parts for your skid steer.
Cons of buying new skid steers:
Upfront cost: Even with financing options readily available, skid steers are a major red line on the budget.
Depreciation: The first few years of ownership see the most value depreciation for a skid steer, which owners need to be aware of.
Pros of used skid steers:
Affordability: Fewer credit restrictions and lower up-front costs make pre-owned skid steers attractive for many.
Limited warranty: Some used models may still include inspections, product histories and a lighter warranty.
Brand & machine dealerships: Servicing your machine is inevitable. Ensure your skid steer has parts readily available and qualified dealers nearby to service the machine.
Cons of used skid steers:
Condition. From wear and tear to engine power, hydraulic leakage, tire conditions and attachment pins or bushings, the condition of a used skid steer needs a thorough review and a patient eye.
Appearance. Paint chips, rust and corrosion should be top-of-mind when inspecting a used skid steer.
Add Skid-Steers to Your Equipment Inventory Today
For product and servicing questions or to receive a free quote, contact Carolina Cat for your expert skid-steer insight.

We take care of the machines so you can take care of your projects.