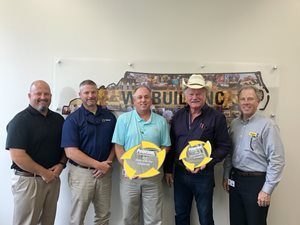 As you can imagine, we're excited here at Carolina Cat today! On August 24th, Peterson Corporation visited Carolina Cat to present us with their 2016 Dealer of the Year Award. This award is recognition for our hard work as a dealer of Peterson equipment for the land clearing, construction, waste recycling, wood grinding and landscape markets. We're proud to represent this industry leader and support their American-made lineup of equipment and machines.
Since 1981, Peterson has been a part of the Oregon landscape, manufacturing top-quality industrial equipment that covers the needs of customers across the state and country. They continue to accelerate their tradition of innovation and are on track for continued growth. At Carolina Cat, we provide products and services that give your business added efficiency and value, such as our lineup of Peterson machines and equipment — you get class-leading power, performance, efficiency and reliability when you equip yourself with products from Peterson.
What this Award Means
Our pride in winning this important award comes from recognizing the hard work our team put into representing the Peterson brand throughout 2016. When our customers come to us looking for equipment for construction, land clearing, landscaping and forestry duties, we know we can promote Peterson products with confidence. Our experience with Peterson has taught us that our customers will appreciate the advanced design, engineering and innovation that goes into each machine and benefit from years of reliable service.
The relationship between Peterson and Carolina Cat grew even stronger in 2016, thanks to the hard work and dedication of Joe Jacobson, Peterson Southeast Sales Manager and winner of the 2016 Salesman of the Year Award. Joe works closely with our own sales team to keep us updated on all the great products Peterson has to offer. He was a big part of our combined success and provided us with invaluable service and support.
2017 has been a big year so far. We know we'll finish it off strong thanks to the professional attitudes of our entire Carolina Cat team. We also know we can count on the continued support and confidence of the entire Peterson Corporation team as we provide even more advanced equipment solutions to our customers. Contact us to learn more about our full line of products.