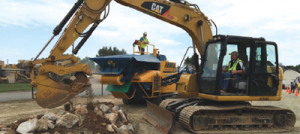 The Rebel Crusher, manufactured by R.R. Equipment Company, can tackle crusing a large variety of material, including concrete with and without rebar, asphalt, brick, cinder block andnearly anything that's brittle. It produces beautiful finished products that have a variety of applications in the construction industry. The Rebel Crusher's motto is "turning concrete to cash."
The Rebel Crusher can produce up to four individual stock piles. Depending on the size of replaceable screens, the Rebel can produce, for example, two or three inch clean stone, clean 3/4 inch and 3/8 inch minus pipe bedding all at the same time. In addition, the Rebel can remove any unwanted material, such as dirt, using the pre-screener. Lastly, the self-cleaning magnet can remove any unwanted metal, such as rebar, and produce a pile of scrap steel." – Bob Rossi, Vice President and Owner of R.R. Equipment Company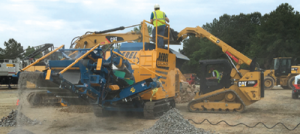 Due to the machine's versatility and mobility, it is already popular with contractors in North Carolina, South Carolina and Tennessee. These contractors use the Rebel Crusher in conjunction with their wheel loaders, excavators and various other support equipment. R.R. Equipment Company wanted to expand upon the company's success, and bring the Rebel Crusher to even more contractors by teaming up with qualified distributors, such as Carolina CAT.
"We thought that every business should have one," said Rossi. "Everybody that is currently operating a Catepillar could have a Rebel Crusher, and it would cover 70 percent of their crushing and screening needs. It's a medium-sized system that can be fed with just about any piece of Caterpillar equipment, whether it's an excavator, skid steer or front end loader."
"We felt that it would be an asset to have a company like Carolina CAT as our distributor for its ability to reach a variety of clients that may want to rent, lease, finance or own. Both companies share a similar ideology of integrity and providing excellent service and support. We are both solution-oriented."
Carolina CAT is now the official Rebel Crusher distributor of North Carolina, South Carolina and Tennessee.
(This story also can be found on Construction Equipments Guide's website.)