Carolina Cat has recently been recognized by Equipment World as the 2019 Big Iron Dealer of the Year. The award, now in it's second year,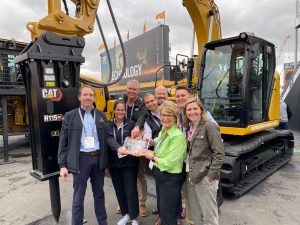 recognizes an equipment dealer for excellence in meeting customer needs, employing technology and addressing parts and service requirements. Companies had to be nominated to be considered and dealers of all sizes were considered.
Carolina Cat had a compelling story of improvement and success that led to the award. The nomination focused on five key areas where the organization experienced significant improvement and focus in the following areas:
Process Improvement:
In the beginning of 2019, Carolina Cat initiated a comprehensive review into our current customer service procedures and protocols in an effort to optimize the customer experience. Processes reviewed included how work was quoted; ordering, staging and delivering parts; and service bay and yard layouts.
The key element to this review was the inclusion of the technicians and parts employees in the process. These employees, who represent over 50% of Carolina Cat's workforce, experience the challenges of the current processes every day, and provided key insights and solutions that led to real sustainable change. Optimizing, sustaining and continually improving has become a key focus for organization, and the frontline employees have been and will continue to be critical in leading effective change in their areas.
Talent Development:
The technicians and parts employees are the superheroes of construction industry, and like most dealers, Carolina Cat is always pursuing top quality talent to add to our team. We have tremendous respect for these individuals and the skills they possess that keeps our business going. In the spirit of improving, always, the Carolina Cat human resources team is dedicated to the constant evolution and advancement of our processes to elevate and advance such critical personnel in the organization.
In the past year, Carolina Cat has implemented a standardized process for career development for our technicians and parts employees. While many of these investments in our people were happening organically, there was an opportunity to standardize the process so that employees knew what was expected of them in order to advance and promote the resources available to help them do so. The new program provided the guidelines, materials and knowledge to advance their skills at their own speed should they desire to do so. Carolina Cat is always proud to invest in its people.
Rental and Compact Equipment:
Roughly four years ago, Carolina Cat revamped its approach to the exploding rental and compact equipment markets. Recognizing the speed of service and availability of machines required in this segment of the business, the company focused on creating a strong service-oriented store experience. The experience requires strong customer service from employees and a quick and painless rental experience that included having requested machines on-site. This culture has been successfully created within the Carolina Cat Rental Store.
Technology:
Cat Productlink telematics devices installed on Caterpillar machines and Condition Monitoring (CM) executed by the Cat dealerships allows customers to significantly improve their productivity and reduce machine downtime. With the number of connected machines being delivered dramatically increasing over the past several years, customers are seeing the value in the remote monitoring of their equipment fleets. By monitoring and diagnosing fault codes, we are able to quickly address any health issues to ensure that customers equipment will stay up and running.
Supporting Changing Customers:
It is apparent through market trends that the construction business and how our customers approach equipment purchases is changing. Ed Weisiger, Jr., president and CEO of CTE, the parent company of Carolina Cat stated it best:
"We recognize our customers are on a continuum. Some want a fast, transactional self-service; others value a high-touch relationship experience, and we need to deliver to both of them."
With this shift, Carolina Cat is committed to providing customers with the purchasing method of their preference, whether that be in person and through eCommerce efforts. Ultimately, Carolina Cat is committed to providing a solution and serving as a trusted partner to our customers – not just simply selling a piece of equipment.
Carolina Cat is committed to serving as our customer's trusted partner. Our employees challenge themselves daily to do the right thing and do what we say, all with the drive to improve always. It is because of these values our employees hold dear that we were able to achieve all these impressive accomplishments that resulted in being awarded Equipment Magazine's 2019 Big Iron Dealer of the Year. We are grateful for our partnership with our customers and look forward to continuing to serve you.
To learn more about Carolina Cat and our solutions, please visit www.carolinacat.com.