Working in an industry that involves heavy equipment also involves some heavy risk. Whether you're using jackhammers, skidders, cranes or any other machinery, accidents are bound to occur, and they never happen at a convenient time. Replacing your heavy machinery takes time out of your workday, but it can also be incredibly expensive — especially if you haven't put money aside to prepare. That's why it's essential to find an insurance plan that's right for your machinery.
Many retailers offer insurance options with your purchase to help contractors and crew leaders protect their employees and replace their equipment in the event of an accident. So how do you choose the right one? Carolina Cat is here to provide some quick tips for selecting a heavy equipment insurance policy.
Understand the Types of Warranties and Insurance Available.
There are a few types of insurance policies and warranties available for heavy machinery. It's essential to understand your options in order to choose the coverage that will help you maintain your business:
Repair Coverage
Heavy equipment repairs can be costly, so choose an insurance policy that provides the most assistance in repair fees. Some programs will even chip in for regular maintenance.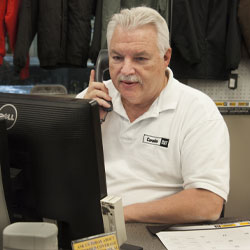 Rental and Loaner Insurance
Renters and loaners are often liable for damage to the equipment they borrow. Review your rental or lease contract to see if renters are required to purchase an insurance policy. If necessary, find a plan that best fits your borrowed equipment and your work.
Theft Protection
Mobile equipment is also easily stolen, so it's good to select a program that accounts for the possibility of theft. Keep in mind that some companies separate their general insurance packages from theft packages.
Business Interruption Coverage
Loss of income can often be more detrimental than the cost of initial repairs. Some insurance packages will cover lost income and other ongoing expenses after an accident.
Reacting When Something Goes Wrong
As a crew manager, it's your responsibility to respond when an accident happens. Regardless of your coverage, it's important to understand OSHA's minimum emergency action plan requirements and predetermine steps to take when something goes wrong. To protect your crew and take full advantage of the policy you selected, be sure to:
Check on the people involved in the accident, then secure the involved machines.
Call an emergency rescue team and report the incident to your regional OSHA office through their emergency response number.
Document the accident with recorded eyewitness interviews and pictures of the site.
Be sure to keep all the necessary materials to take quick action on hand at your office or job site, including a first aid kit, audio and video recording devices, and pen and paper. You should also train all supervisors to respond following an established safety protocol.
Equipment Insurance From Carolina Cat
Accidents involving heavy machinery are high-stress situations that require a composed response. Having the backing of a solid insurance policy can allow you to direct all of your focus toward your crew's safety without worrying about the costs of repairing or replacing your equipment. Choose an insurance policy that gives you the financial security to handle accidents with care.
Carolina Cat is proud to offer construction equipment and advice to crews in Charlotte and all of Western North Carolina. To learn more about the plans Carolina Cat recommends for heavy machinery, call us at 800-277-1212 or contact our customer service team today.