Looking for new equipment and don't know where to start? Don't worry. At Carolina Cat, we're ready to help make renting or buying the proper equipment for your industry easier for you.
We regularly serve those in various industries, from agriculture, on-highway trucking and quarries and aggregates to forestry, nursery and landscaping, paving and waste industries. We use our experience to help you narrow down your needs and choose the best equipment available. Before you decide on your new equipment, learn more about your industry's needs and check out what we can do for you.
Top Industries We Serve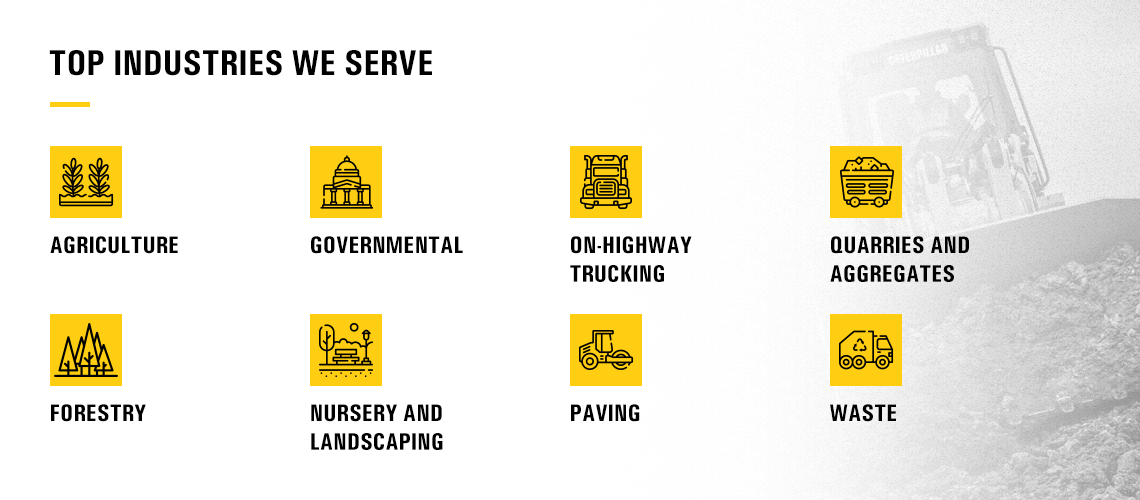 Carolina Cat is proud to serve a diverse selection of industries. As you look for equipment for your industry, consider the type of machines and services Carolina Cat provides to the primary industries we serve:
Agriculture
As members of the National Cattlemen's Beef Association and the North Carolina Farm Bureau Association, we're aware of the challenges facing those in the agriculture industry. Our knowledge of the industry means that we can provide you with equipment that's designed for the unique needs of farmers and ranchers, helping you improve your efficiency and productivity.
You can find a range of new and used agricultural equipment for purchase or rental that will meet your needs. Some of the most popular multi-purpose agricultural machines include wheel loaders, skid steer loaders and telehandlers. Since you often have to get a diverse range of work done while out on the farm, you'll love all of the attachments available to make your equipment more versatile.
If you're looking for help keeping your fleet running smoothly, check out these tips for proper agricultural equipment maintenance. The guide will help you develop a maintenance plan and ensure that you get the most life out of your equipment.
Governmental
When you're trying to lock down a government contract, you're going to be competing with other companies. The equipment you use is crucial for winning the contract by showing the client you can handle their needs, while also being important for keeping your expenses low.
You can make the most out of taxpayer money by choosing Cat equipment, as the machines last longer, can handle tasks with greater efficiency and are built to maximize safety. Carolina Cat is also proud to be affiliated with several governmental organizations, such as the Association of Public Works, NC Sherriffs Association, NC Solid Waste Association, NC Terms Contract 760S, Sourcewell and Onvia.
Unsure about what you might need? Check out this governmental buyers' guide and our governmental equipment offerings.
On-Highway Trucking
Though Caterpillar no longer makes new on-highway trucks and engines, you can still find the parts you need to keep your older Cat trucks running. Carolina Cat serves a range of clients, from individual drivers to commercial fleets. We offer a comprehensive selection of parts from a variety of vendors, such as Cat, Bendix, Webb, Federal-Mogul and Phillips, to assist with the maintenance and repair of your on-highway trucks.
We also give drivers and fleets unmatched truck services. Our ASE Certified Technicians can handle almost any repair, and as a result, we're proud to work on all engine and truck manufacturers, not just Cat. We know how important it is to keep your trucks on the road, so we handle repairs quickly, keeping your productivity high and your downtime low.
Quarries and Aggregates
Those in the quarries and aggregates industry know that heavy-duty, reliable equipment is a must. You have to complete a diverse range of jobs, from drilling and hauling to stripping and loading. As a result of this variety, any equipment you use should be compatible with several types of attachments, like pulverizers, rippers and loader buckets.
Alongside attachments, you must have the right equipment for your jobs. Some of the top pieces of equipment used in this industry include excavators, scrapers and off-highway trucks.
Forestry
The forestry industry requires specialized machines. When you have to complete logging, millyard, road building and land management tasks, you need forestry machines from a reputable dealer. As you look for equipment, ensure that the machines can complete common forestry tasks like clearing and harvesting with greater speed and accuracy than the competition.
Besides specialized forest machines, you can find other machines that are commonly used for forestry applications like millyard loaders, wheel loaders and skid steer loaders. Carolina Cat ensures that you receive high-quality equipment by staying on top of the forestry industry's needs through our membership in the Carolina Loggers Association and North Carolina Forestry Association. We also partner with several forestry manufacturers to give you cutting-edge equipment.
Nursery and Landscaping
When you have landscaping projects to complete, you need equipment that can craft appealing environments and do so quickly. Tasks like soil preparation, tree installation, sod installation, and irrigation can be completed with Cat landscaping machines and attachments. As you decide on the best equipment for your needs, learn more about the attachments you can use with your Cat machines to make your fleet more versatile.
Carolina Cat's affiliations with the Carolina's Irrigation Association, NC Christmas Tree Association, National Association of Landscape Professionals and NC Nursery and Landscape Association highlight our commitment to serving the nursery and landscaping industry. Alongside our heavy-duty landscaping machines, we offer smaller options like our mini excavators and compact track loaders when the jobsite is tight and requires a lighter touch.
Paving
Through our affiliations with the Carolina Asphalt Pavement Association, American Public Works Association, National Asphalt Paving Association, Asphalt Recycling and Reclaiming Association, and North Carolina Aggregates Association, we're on top of the latest developments in the paving industry. As a result, we know what our customers need to get a job done right and done quickly.
Carolina Cat provides cutting-edge paving equipment that will last you for years to come. Some of the most popular models include motor graders, asphalt and concrete pavers, asphalt and soil compactors, distributor trucks and cold planers. Whether you need mill and resurface aging asphalt or to lay new pavement, our full range of paving equipment will have you covered.
Waste
Those in the waste industry know how crucial it is to have durable equipment to handle a harsh environment, huge load sizes and unstable underfoot conditions. To get jobs done safely and in a cost-effective manner, you need the toughest machines around. It's this need for toughness that draws so many to Cat equipment.
Carolina Cat offers several waste solution machines, such as wheel loaders, purpose built waste handling dozers and compactors. To learn more about the best equipment for waste solutions, check out our in-depth guide. As members of the NC Solid Waste Association, NC Sheriffs Association, NC Terms Contract 760S, Sourcewell, Onvia and Carolina Recycling Association, we're confident we have the expertise to help you get jobs done efficiently, profitably and safely.
Carolina Cat Is Ready to Help
At Carolina Cat, we've served countless companies in a variety of industries. With our experience, we can help you find equipment that's perfect for your needs. We're a part of the elite Caterpillar dealer network and have several locations throughout western North Carolina. No matter your industry, we want to help.
Find your local Carolina Cat dealer to get only the best equipment for your industry. If you have any questions, don't hesitate to contact us.