The COVID-19 pandemic has impacted all industries and professions and the way they conduct their work. The construction industry is not exempt from these impacts and, as a result, is having to adapt to the new normal. To protect their employees, companies are now implementing new precautionary measures to ensure a healthy and safe environment for their operators.
Because of the nature of construction work, employees often find themselves in close proximity and utilizing shared equipment. Below are some tips to maintain a safe environment and minimize the potential for a COVID-positive employee or jobsite.
COVID-19 Jobsite Safety Precautions:
Stay home if you are sick
Wash your hands often with soap and water for at least 20 seconds
If soap and water are not available use hand sanitizer with at least 60% alcohol
Maintain 6 feet distance between people whenever possible
Wear a mask when close contact cannot be avoided
Avoid touching your eyes, nose and mouth
Cover your mouth and nose with your arm when you cough or sneeze
Disinfecting shared equipment and machines:
Because our industry often requires the sharing of various tools and equipment, it is important to disinfect common surfaces and touch points. When cleaning equipment, ensure that the following touchpoints are disinfected after each operation or employee use:
Joysticks
Steering wheels
Switches
Displays
Grab handles
Armrests and seats
Consoles
Door handles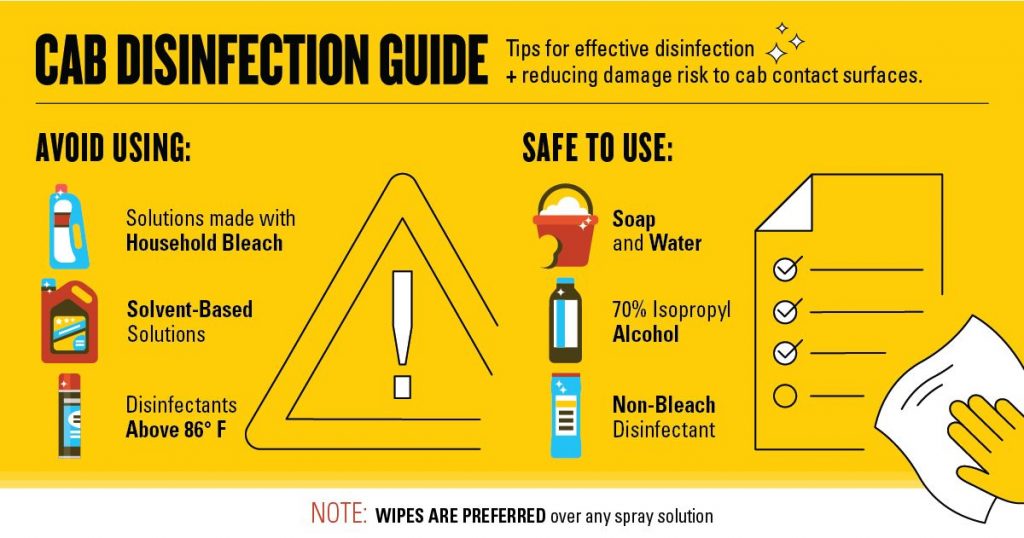 To properly disinfect these areas, you can use soap and water, 70% Isopropyl Alcohol, or non-bleach disinfecting wipes/spray. Make sure to disinfect these areas frequently. Avoid using products with bleach or solvent-based solutions if possible, and avoid using disinfectants stored at temperatures above 30˚C/86˚F.
Sources:
Caitlin Maddock-Bahr, "Disinfecting Your Machines", Caterpillar, Inc., accessed May 5, 2020, https://www.cat.com/en_US/by-industry/construction/on-the-level-construction-blog/disinfecting-your-machines.html
 Marcia Doyle, "How construction contractors are working safely amid coronavirus threat", Equipment World, May 4, 2020, accessed May 7, 2020, https://www.equipmentworld.com/how-construction-contractors-are-working-safely-amid-coronavirus-threat/