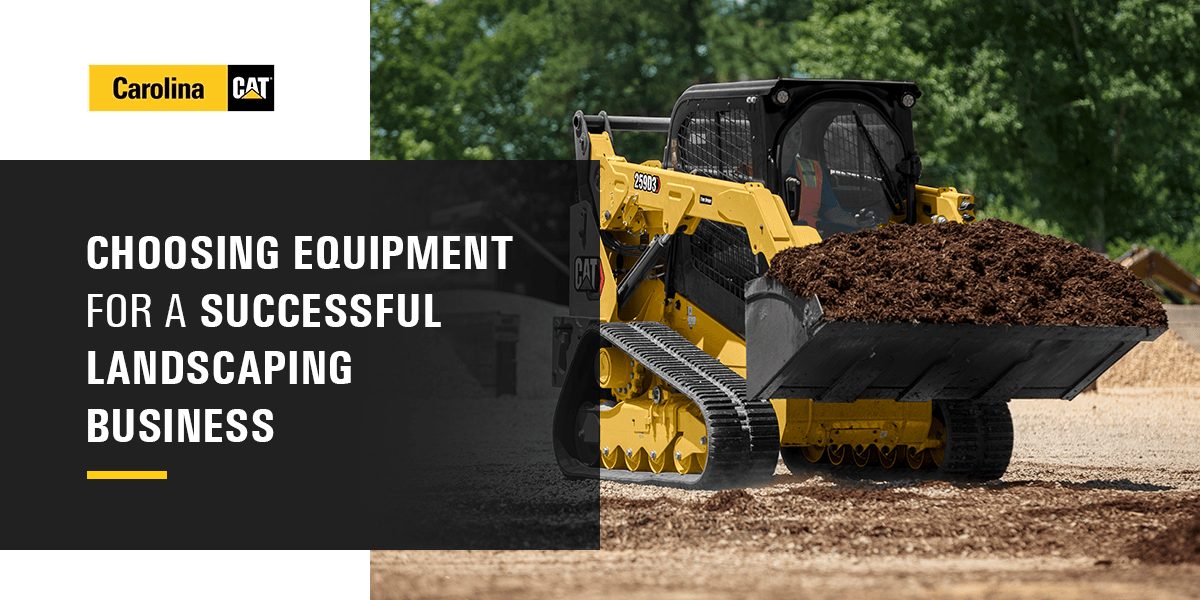 Large-scale landscaping projects often rely on various types of machinery designed to help crews complete tasks faster. Knowing what different pieces of landscaping equipment are used for and how they can assist your project can help you tackle the challenges of each project and property.
Any landscaping company can benefit from exploring the top equipment in the industry and considering reasons why they may want to rent or buy landscaping machinery. Find out more about the main types of landscaping equipment and attachments that can help you develop a fleet that is ready to take on any job.
Types of Equipment Needed for Landscaping
A fleet of landscaping business equipment often includes several pieces of machinery designed for varying purposes. By picking the right equipment for your job, you can save costs and increase project speeds. Learn more about the top equipment often necessary for landscaping below:

1. Compact Track Loaders and Multi Terrain Loaders
Compact track loaders and multi-terrain loaders are versatile pieces of machinery designed to handle tasks such as trenching, mulching, brush cutting and earthmoving. The small size of compact track loaders allows them to navigate tight areas, and these machines' steel and rubber tracks put less pressure on terrain when compared to skid steers. Landscaping companies regularly employ track loaders for projects with sensitive landscapes or in areas with sand and mud.
Multi-terrain loaders are even lighter than compact track loaders, making them perfect for working on sod and other highly sensitive terrains. Even in delicate areas, they retain excellent stability. Either loader option is a great choice for projects requiring a lighter touch on the ground.
2. Dozers
When your crew needs to clear a lot of land and move dirt around a job site, a dozer can help you complete the job fast. Dozers rely on a large metal blade to collect dirt and other materials to push it to a new area. You'll also commonly find them in landscaping projects, where they're used to build berms or level lots. Typically dozers come with a blade, but they can also come with a loading bucket to pick up materials.
For smaller landscaping projects or terrains that need a lighter piece of equipment, a compact or small dozer is usually the best choice. Larger landscaping projects will benefit from larger dozers. Dozer users can choose straight edge blades that lack any enclosed sides or curves, universal blades that feature side enclosures, or combination blades that borrow from both designs.
3. Skid Steer Loaders
Skid steer loaders are another versatile piece of machinery that is vital to many landscaping businesses. Generally, skid steer loaders are compact and light, with operators primarily using them for digging, grading lots, moving dirt and hauling gravel. You can select two main configurations of skid steer loaders based on the needs of your job. Radial lift loaders are perfect for jobs where you're working below eye level, while vertical lift loaders are ideal for jobs at or above eye level.
Due to a skid steer's versatility, it's compatible with many attachments that connect to its arms to complete diverse types of landscaping projects. You might find skid steer loaders with an auger for drilling post holes or with forks to assist with loading and unloading fertilizers and plants. Their maneuverability and compact size options help them easily move around a cluttered job site and make tight turns.
4. Mini and Small Hydraulic Excavators
Mini and small hydraulic excavators are commonly employed for excavating tasks and for planting and trenching jobs. Like loaders and skid steers, excavators are usually compatible with various attachments, such as buckets, thumbs and blades. Specialty suction excavators utilize water and teeth to break up soil before vacuuming it up.
Since landscaping projects often involve working alongside retaining walls or between buildings, small and mini excavators are an excellent choice. The smallest excavators can even fit in shoulder-width spaces. These smaller excavators are usually very maneuverable, making them perfect for hard-to-navigate landscapes. If you take on a larger-scale landscaping job, you may want to turn to a larger excavator to assist with the work.
5. Backhoe Loaders
Another essential piece of landscaping machinery is a backhoe loader. Backhoe loaders feature a blade at the front to conduct material handling tasks. Unlike a standard compact track loader or multi-terrain loader, backhoe loaders have a backhoe installed on the rear. Essentially, backhoe loaders combine the function of an excavator and a loader in one package, giving operators a versatile piece of machinery while landscaping.
You can purchase or rent backhoe loaders in different sizes. They're typically larger than skid steer loaders and mini excavators, as backhoe loaders are made to handle more material. Though they tend to be larger, they're usually small enough to work in confined spaces and feature incredibly precise handling. Operators may use them for back-filling, trenching and digging.

6. Compactors
Compactors are perfect for jobs where you want to add greater density to the soil by removing air voids from it, helping the soil hold greater weight. You can find compactors compressing surfaces before a crew lays a patio or driveway and creating a solid base for a retaining wall. By using compactors, you can ensure your landscaping projects hold up over time, as any heavier materials will be placed on firm footing, reducing the chances of sinkage or structural instability.
When you search for compactors, you can select from several different sizes. If you're handling a smaller project or one with hard-to-navigate terrain, a small compactor model is an excellent choice. You can also choose soil compactors outfitted with front blades, much like a track loader, to assist with earthmoving.
7. Water Trucks
When you're working on a landscaping project, a water truck is often a necessity. These trucks are designed to store huge amounts of water in a large tank that crews can later pump out and use for various purposes. Landscaping crews most commonly use these trucks to reduce dust during landscaping and have pre-irrigation water for laying sod. You can usually find water trucks with varying water capacities and flow rates to accommodate the amount of water you need for your projects.
Most landscaping companies find that renting water trucks is more cost-efficient than buying. Since landscaping crews usually only rely on water trucks on a seasonal basis, it may not make financial sense to spend money on a water truck year-round. As a result, many companies choose to rent them on a job-by-job basis.
Attachments
Alongside the many pieces of landscaping business equipment used for projects, you can employ various attachments for specific jobs. Many large or small landscaping tools, like couplers, blades, augers, mulchers and stump grinders, can be connected to the landscaping equipment listed above. The following are some of the most common attachments for landscaping machinery:

Helpful Tips to Maintain Equipment
If you own landscaping equipment, it's crucial you take good care of it to ensure it lasts for a long time and operates at peak performance. Find out more about how you can keep your equipment in good condition below:
Inspect your equipment regularly: Performing daily inspections on critical parts of your machinery can help you spot potential issues and make relevant landscaping machine repairs before they cause major damage to your machinery. You may also want to schedule more in-depth inspections at manufacturer-recommended intervals. Additionally, you can create a scheduled maintenance plan to perform various tasks at prescribed intervals to keep your machinery running at its best.
Train your operators: Equipment misuse can end up causing maintenance issues and damaging your equipment. By training your operators to properly use landscaping equipment, they can be more prepared to safely operate the equipment and avoid tasks that could harm it.
Follow manufacturer instructions: Before you use any piece of heavy machinery, take a moment to review its manufacturer's instructions. You'll always want to follow the instructions, as it will ensure you only use the equipment for its intended use and avoid operating in a harmful way.
Purchase from a reputable dealer: When you buy heavy equipment from a reputable dealer, you're likely to benefit from continued support after purchasing the machinery. This support usually comes with advice on how to best maintain your machinery, repair services and replacement parts.
Benefits of Renting or Buying Landscaping Equipment
As you look for landscaping equipment for your business, you'll likely run into the question of whether you should rent or buy. First, consider some of the reasons why you may want to rent:
Access to the latest technology: When you rent equipment, you'll usually have the ability to utilize machinery with the latest technology on the market.
Option to handle different size requirements: If you regularly handle projects that require different sizes of equipment, renting allows you to quickly adjust to a project's unique requirements.
Ability to use landscape equipment for short-term projects: Sometimes, you may take on a project where you need a piece of equipment or an attachment you don't have in your fleet. Renting allows you to receive equipment for the project's duration and give it back after you're done.
Less maintenance and storage responsibilities: Since dealers perform maintenance on their equipment and store it during downtime, a renter doesn't have to worry about paying for storage facilities or devoting time to maintenance tasks.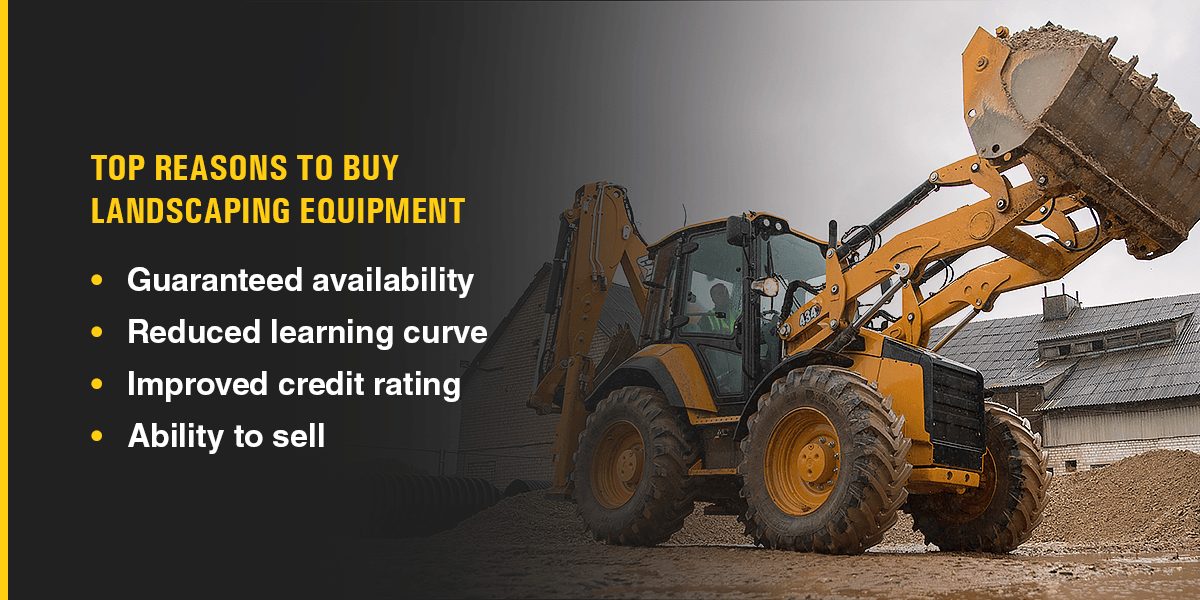 Alongside the benefits of renting, you may also be interested in buying equipment. Find out more about some of the top reasons to buy:
Guaranteed availability: Owning a fleet of equipment guarantees that you'll always have the equipment ready to use when you need it. Instead of having to wait for a piece of equipment to become available from a third party, you can deploy your machinery as soon as a project needs it.
Reduced learning curve: By owning equipment, your operators won't have to go through a steep learning curve from project to project. They'll already know how to use the equipment safely and efficiently, helping them get to work immediately instead of having to spend time training.
Improved credit rating: Borrowing money to purchase landscaping equipment can improve your business's credit rating. An improved credit rating may allow you to gain more borrowing power and increase your ability to expand your business in the future.
Ability to sell: When you purchase equipment, you can later sell it to recoup part of your investment.
Turn to Carolina Cat® for Your Landscaping Equipment
Whether you rent or buy machinery, choosing the right equipment for your landscaping projects can help you finish projects faster, saving time and money. At Carolina Cat®, we're ready to provide the equipment you need to reach your company's full potential. We carry high-quality new and used Cat equipment designed to make your projects easier and deliver exceptional results. We also offer various financing options and in-depth customer service.
Take a moment to review our used and new landscaping equipment and our rental options to find the best equipment for your project's needs. If you have any questions, reach out to your local Carolina Cat dealer or get in contact with us directly.