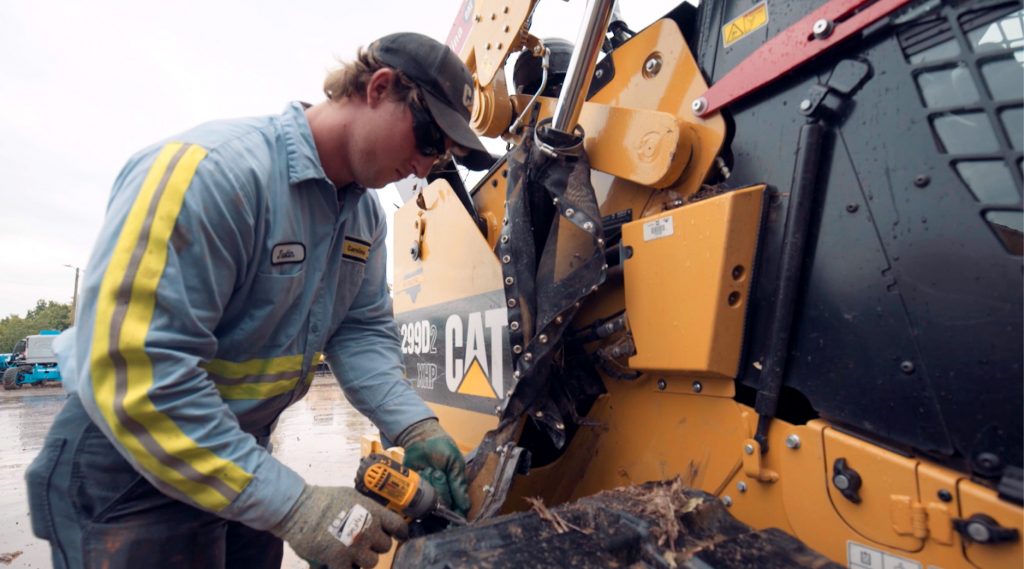 If you run a landscaping business, you need the flexibility to take on jobs of any size. Renting landscaping equipment is the perfect way to expand your capabilities and grow your business.
At Carolina Cat, we have a high-quality fleet of landscaping rentals at your disposal. We'll help you find the tools you need to succeed, from skid steers to excavators to backhoes and other essential landscaping equipment.
Jump to Sections:
Skid Steer Rental Guide
Skid steers are one of the most versatile pieces of powered equipment in the rental market. They come in different sizes with a broad assortment of attachment options to tackle virtually any landscaping task. Skid steers operate on rubber tires, making them fast machines that can travel long distances in short amounts of time. They also have exceptional maneuverability, and they use less fuel than conventional loaders.
When you're searching for the best skid steers for your landscaping business, there are a few factors to consider:
Lifting Capacity
Small skid steers can lift 1,500 to 1,800 pounds, while mid-size skid steers can lift between 1,800 and 2,200 pounds. Large-capacity skid steers can lift more than 2,200 pounds.
Tires
There are three main types of skid steer tires:
Air-filled: Most skid steers have air-filled — also called pneumatic — rubber tires, which offer longevity and a smooth ride.
Foam-filled: These tires are injected with a blend of polyurethane foam to make them puncture-proof.
Solid: These heavy-duty tires are ideal for harsh environments like quarries and demolition sites where pneumatic and foam-filled tires don't provide the necessary durability.
Attachments
Skid steers can be equipped with a wide range of attachments, allowing them to take on all types of landscaping work. Some attachment options include:
Mulchers
Rakes
Blades
Forks
Buckets
Augers
Trenchers
Brushcutters
Excavator Rental Guide
Excavators offer highly efficient digging and dumping capabilities to make your landscaping jobs easier. They are available in numerous sizes and operating weights to meet the needs of any site conditions. As you consider the right excavator rental for your business, keep these factors in mind:
Size
Compact and mini excavators are typically best for landscaping, as their lighter weight results in less ground disturbance. They can dig deep and lift heavy loads while offering excellent maneuverability in tight areas. Mini excavators see frequent use in landscaping applications where materials require lifting and transporting, topography must be flattened or large patches of earth need to be removed.
Bucket Capacity
Bucket size determines how much your excavator can pick up in one pass. You may want to have several buckets on hand with varying capacities to adapt to different job requirements.
Dig Depth
If you need an excavator primarily for digging, it's crucial to know what depth it should be able to reach. Check your required dig depths before you decide on a rental.
Contact Carolina Cat for Landscaping Equipment Rentals
If you're looking for skid steer rentals near you in Western North Carolina, Carolina Cat is a top choice. Besides skid steers and excavators, we also offer backhoes, compact track loaders, multi terrain loaders and other landscaping equipment rentals to meet all your needs. We have a vast inventory of high-quality Cat® equipment available, and we offer flexible rental terms and competitive rates. Contact us today to learn more.